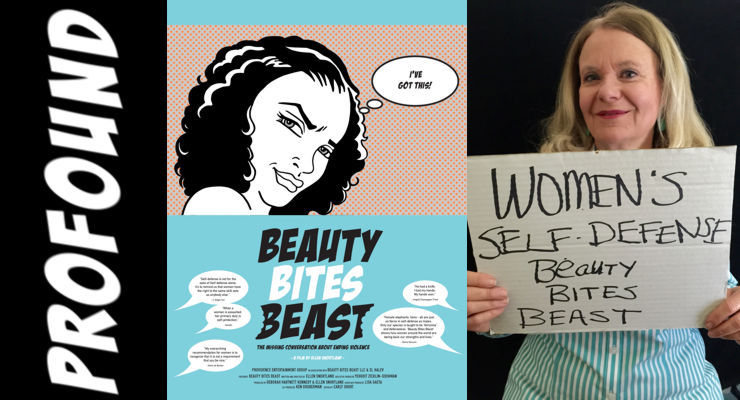 April 2018 ~ Congratulations to Beauty Bites Beast (2015) for winning Best Documentary at the Artemis Film Festival created by Artemis Motion Pictures. Beauty Bites Beast is a humorous and always dynamic documentary that flips ideas of women's self-defense upside-down. Winners include Dolores Huerta; Gavin de Becker; Riane Eisler; Ellen Snortland; Dr. Bessel Van der Kolk; Ellen Snortland, director. Adult themes. USA
About Artemis Motion Pictures
Artemis Motion Pictures supports the effort to celebrate powerful women on screen and the created the first film festival dedicated to honoring female action and empowerment heroes.
The Beauty Bites Beast (2015) documentary discusses empowering women through training in self-defense and sparks "missing conversations" for preventing violence. The documentary explains that there three parts to an assault, before the assault, during the assault, and after the assault. We think we have all the answers to the before and after, but this documentary discusses what should take place during the assault, something our society rarely discusses.
As Gavin de Becker author of A Gift of Fear says, "When a man says 'no' it is the end of the conversation, but when a woman says 'no' it is the beginning of a negotiation."
We have all seen the statistics from the World Health Organization which tell us that 1 in 3 women worldwide experience sexual or physical violence, and 1 in every 6 women in America have been victims of sexual assault, including over 22 million women raped over their lifetime. The question is why are so many of our sisters, wives, daughters and mothers targets for violence? Could it be because societies teach women and girls – and boys and men – that women are helpless? So much of what our societies teach do give the impression that women must depend upon males to protect them instead of being responsible for their own safety by learning to defend themselves.
Ellen Snortland tells us both in her book and in the documentary that "women and girls have a right to set boundaries – emotionally, verbally, and, if push comes to shove, physically. Teaching them that fact is one missing key to empowering females to stop personal violence."
Women, I promise you Beauty Bites Beast (2015) will change how you view personal safety, and men, it will change your perspective on how you think about women's safety. Remember, "men are not the enemy, violence is the enemy" and the bad guy is not looking for a fight, he is looking for an easy target. "Beauty Bites Beast" is about helping women worldwide to become hard targets.
Don't miss Beauty Bites Beast (2015), it will not only profoundly change you, but it will profoundly change the world when it comes to women and their right to be safe!
BTW this film is so profound that Ellen and her team have been invited to show the documentary to up to 300 young women who are scholars and researchers in culture at the Conference Consciousness-Raising of Pakistani Women on Contemporary Academic and Social Issues, to be held in Pakistan on December 7-9, 2016. Please support their Beauty Bites Beast IndieGoGo Campaign. This is how the world gets changed!!!
We were able to see Beauty Bites Beast in New York City at Cinépolis Chelsea Theater from November 4 – 10, 2016 and in Pasadena, California with a run at Laemmle's Playhouse 7 from November 11 – 17, 2016.
Cinepolis Chelsea (4 showings per day)
260 W 23rd Street
New York, NY 10011
Laemmle's Playhouse (4 showings per day)
673 E. Colorado Blvd.
Pasadena, CA 91101
Please visit and like the Beauty and the Beast Facebook Page
Beauty Bites Beast Website
Beauty Bites Beast IndieGoGo Campaign
About the Author
"Safety Godmother" Ellen Snortland is writer, director and producer of the new documentary Beauty Bites Beast – Revealing the Missing Conversations about Ending Violence. Ellen is an author, actor, attorney, radio and TV personality and writing coach. As a self-defense advocate and instructor she's worked tirelessly for decades teaching women and girls to fight back against violence.Ellen grew up in Colorado and South Dakota, and set out early in life to be a "Renaissance woman." She made her way to California by the time she was 17 and has never looked back. She earned a Juris Doctorate from Loyola Law School, co-founded the first all-female theater company in the early 70s, acted in and directed several TV shows during the 80s, attended the 4th United Nations World Conference on Women in Beijing, the 2001 World Conference Against Racism in Durban, South Africa, and annual UN meetings as an NGO delegate and journalist, served as a Goodwill Ambassador for the National Women's History Project, and much more.
Ellen's work as an author, self-defense advocate and instructor has been featured on Dateline NBC. Her book, Beauty Bites Beast: Awakening the Warrior in Women and Girls, is considered a classic in the violence prevention field. She also co-authored the 2015 book "The Safety Godmothers: the ABCs of Awareness, Boundaries and Confidence for Teens" with Lisa Gaeta, founder and CEO of IMPACT Personal Safety of Southern California, a leading trainer in full-force, adrenaline-based self-defense. A regular columnist for the Pasadena Weekly and the Huffington Post, Ellen is a tireless advocate for women and girls and physical safety for all. Her acclaimed one woman show, Now That She's Gone, is a comic memoir about growing up Norwegian American; it has been performed all over the world. Ellen serves on several boards, including Consumer Watchdog, IMPACT Personal Safety, and 50-50 Leadership, a non-profit that envisions more women and girls in leadership positions. She and her husband Ken Gruberman, a Grammy Award-winning music supervisor, live in Altadena, California. For more information, visit the Beauty Bites Beast website.