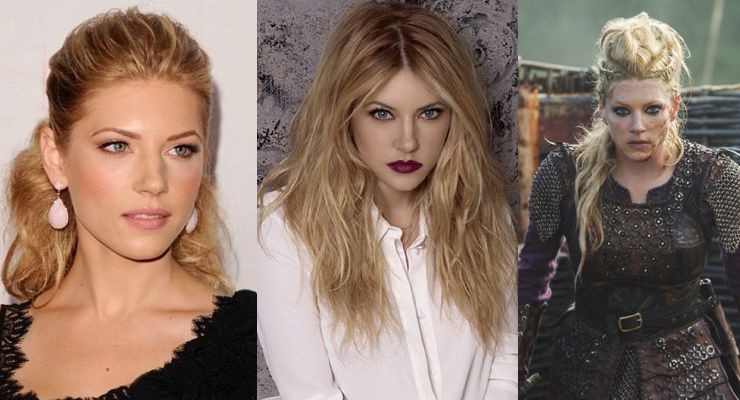 Martial Artist and Canadian actress Katheryn Winnick was born on December 17, 1977 in Etobicoke, Ontario. Katheryn stars as Christine Gavin in the Netflix martial arts, action, crime series Wu Assassin (2019) created by Tony Krantz and John Wirth about a warrior chosen as the latest and last Wu Assassin who must search for the powers of an ancient triad and restore balance in San Francisco's Chinatown.
Katheryn is best known for her role as the fierce female warrior Lagertha in the Emmy award-winning television series Vikings (2013-2017) produced by MGM and The History Channel. Entertainment Weekly declared that her role as "Lagertha" may be the most exciting feminist character on TV. She has also received a nomination for a Critic's Choice Award for Best Supporting Actress in a Drama Series, a Canadian Screen Award nomination for Best Performance by a Lead Dramatic Actress (2014), Best Actress in a Drama Series by the Women's Image Network in both 2014 and 2015 and a Golden Maple Award nomination for Best Actress in a TV Series. In addition to these prestigious nominations, Katheryn won the Serendipity Film's Award of Excellence at the Banff World Media Festival in 2015.
She is in the Stephen King film The Dark Tower (2017), starring Academy Award winner Matthew McConaughey and Golden Globe winner Idris Elba, and she stars opposite Gerard Butler in the Warner Brother's feature film Geostorm (2017).
Katheryn Winnick's other credits include roles in such movies as Love and Other Drugs (2010) with Jake Gyllenhaal, Killers (2010) starring Ashton Kutcher, as well as Stand Up Guys  (2012) with Al Pacino, Christopher Walken and Alan Arkin. She also starred in the Paul Giamatti comedy drama Cold Souls (2009), which received a best ensemble performance nomination in the 2009 Gotham Independent Film Awards.
Katheryn is no stranger to Television either. In addition to Wu Assassins and Vikings, she has had numerous roles in Person of Interest (2011), House M.D. (2004), CSI: Crime Scene Investigation (2000), Law and Order: Criminal Intent (2001), and a notable recurring role on the hit prime time series, Bones (2005).
In 2015, Katheryn Winnick was named as the brand ambassador for luxury Swiss watch company Raymond Weil and she is the face of their 2016 elegant and feminine Shine Collection. Katheryn proudly endorses the brand of watches, which celebrates worldwide, both the strength and beauty of the active modern woman.
In addition to acting, Katheryn Winnick is an accomplished martial artist. She holds a 3rd Black Belt in Taekwondo and a 2nd Black Belt in Karate. She began training in martial arts at age seven, and obtained her first Black Belt at thirteen. By twenty-one she had founded and owned three martial arts schools. After completing her university education at York University, Toronto, Katheryn went on to successfully pursue an acting career in New York and subsequently Los Angeles.