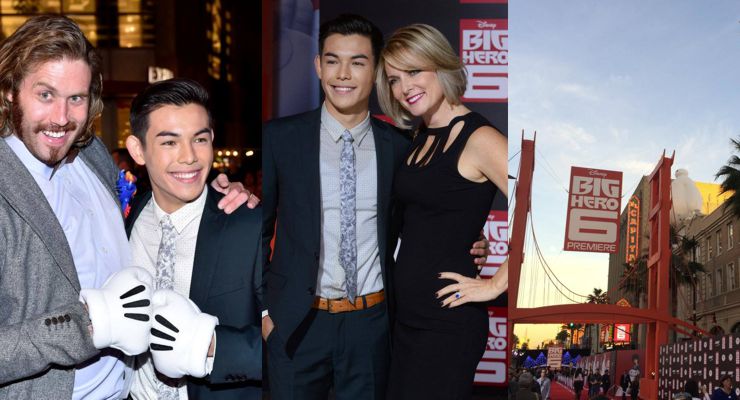 Big Hero 6 Wins Best Animated Film at the Academy Awards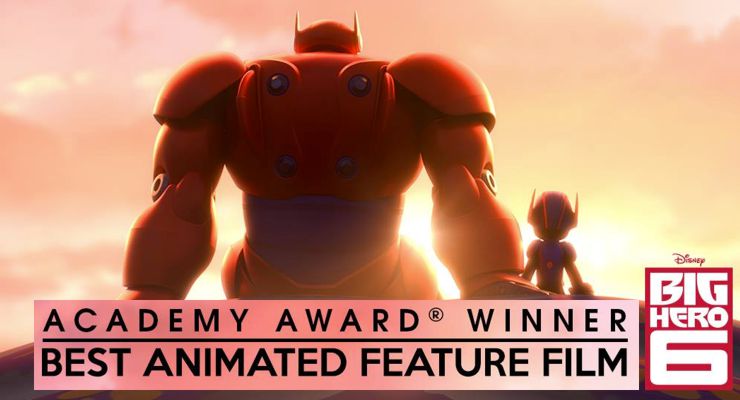 Big Hero 6 wins Best Animated Film at the Oscars 2015 on February 22, 1015. Congratulations to Martial Artist Ryan Potter who played Hiro, the lead!!!
 Hollywood Premiere of Disney's Big Hero 6
Disney's Big Hero 6 Premiere took place in Los Angeles on Tuesday, November 4, 2014 at Hollywood's El Capitan Theatre and our own Ryan Potter once again steals the limelight (along with his beautiful mom, Jordanna Potter) according to Variety.
Young Ryan Potter, who plays boy genius Hiro in the toon, enthusiastically hijacked an interview with Duncan Rouleau, Steven T. Seagle, Joe Casey and Joe Kelly, the four creators of the original "Big Hero 6″ comicbooks, to gush about his love for the comic.
"A buddy of mine gave me a box of comics, and one, three and four were in there. I read them, and even before I knew about this project, I fell in love with it," he told them.
"So now you're our Hiro," said Seagle.
Potter says he has all of the comics now and hit up the writers to sign them.
Ryan Potter (Hiro) Interview for BIG HERO 6
Big Hero 6 Hiro Hamada  – Ryan Potter Interview
Disney's Big Hero 6 opens Friday, November 7, 2014.
Ryan Potter plays voice of Hiro Hamada in Disney's Big Hero 6
About Ryan Potter
Disney's Big Hero 6 voice star, Ryan Potter, grew up practicing White Tiger kung fu. He loves sports and doing his own stunts!
Ryan Potter was born on September 12, 1995. He was raised in Japan and moved with his family to the United States when he was in elementary school. He began studying White Tiger kung fu at a near by kung-fu dojo called and he continues his study for over 8 years and continue to rank. The Japanese-American actor stared in Nickelodeon's show, Supah Ninjas. In his free time, Ryan loves to play baseball, go airsoft with his friends, snowboard and travel. He is a big fan of action movies and will make movies himself one day.
Ryan is a gifted performer with the following skills: improvisation, stage combat, whistling, pilot, host, stunts, voiceover, martial arts, and teleprompter. He also has great athletic skills including rollerblading, volleyball, ice skating, skateboarding, softball, bowling, snowboarding, track & field, boxing, baseball, swimming, cycling, basketball, tennis, martial arts, soccer, aerobics.
About Big Hero 6
With all the heart and humor audiences expect from Walt Disney Animation Studios, "Big Hero 6" is an action-packed comedy-adventure about robotics prodigy Hiro Hamada, who learns to harness his genius—thanks to his brilliant brother Tadashi and their like-minded friends: adrenaline junkie Go Go Tomago, neatnik Wasabi, chemistry whiz Honey Lemon and fanboy Fred. When a devastating turn of events catapults them into the midst of a dangerous plot unfolding in the streets of San Fransokyo, Hiro turns to his closest companion—a robot named Baymax—and transforms the group into a band of high-tech heroes determined to solve the mystery. Inspired by the Marvel comics of the same name, and featuring comic-book style action, "Big Hero 6" is directed by Don Hall ("Winnie the Pooh") and Chris Williams ("Bolt"), and produced by Roy Conli ("Tangled"). The film hits theaters in 3D on November 7, 2014.
A group of six superheroes are recruited by the government to protect the nation.
Directors: Don Hall, Chris Williams
Writers: Robert L. Baird, Daniel Gerson
Stars: Jamie Chung, T.J. Miller, Alan Tudyk
About the Characters in Big Hero 6
Hiro Hamada (Voiced by Ryan Potter): Robotics prodigy Hiro Hamada has the mind of a genius-and the heart of a 14-year-old: his state-of-the-art battle-bots dominate the underground bot fights held in the dark corners of San Fransokyo. Fortunately, big brother Tadashi redirects Hiro's brilliance, inspiring him to put his brain to the test in a quest to gain admission to the San Fransokyo Institute of Technology. When a tragic event changes everything, Hiro turns to a robot named Baymax, and they form an unbreakable bond-and two-sixths of a band of high-tech heroes on a very important mission.
Baymax (Voiced by Scott Adsit): Baymax cares. That's what he was designed to do. The plus-sized inflatable robot's job title is technically Healthcare Companion: With a simple scan, Baymax can detect vital stats, and, given a patient's level of pain, can treat nearly any ailment. Conceived and built by Tadashi Hamada, Baymax just might revolutionize the healthcare industry. But to the inventor's kid brother Hiro, the nurturing, guileless bot turns out to be more than what he was built for-he's a hero, and quite possibly Hiro's closest friend. And after some deft reprogramming that includes a rocket fist, super strength and rocket thrusters that allow him to fly, Baymax becomes one of the Big Hero 6.
Fred (Voiced by T.J. Miller): Fanboy Fred comes off like a laid-back dude with no direction. But this sign-twirling, monster-loving, comic-book aficionado is sure to go places-when he's good and ready. For example, Fred doesn't hesitate to join "Big Hero 6," and he has a lot of ideas for his super-hero skillset, too. His ferocious, fire-breathing alter ego comes complete with claws, integrated communications and a super bounce. But his sign-spinning may still come in handy.
Go Go Tomago (Voiced by Jamie Chung): Aptly named Go Go Tomago knows what it takes to be fast. She's tough, athletic and loyal to the bone, but not much of a conversationalist. Popping bubble gum and delivering well-placed sarcasm are totally her speed. The daredevil adrenaline junkie is at her best on wheels, and when Go Go joins forces with Big Hero 6, she rolls like never before, using maglev discs as wheels, shields and throwing weapons.
Wasabi (Voiced by Damon Wayans Jr.): Wasabi is committed to precision. He's super smart and just a touch neurotic, but the big and burly beatnik can't help but join the cause when Hiro needs him most. As part of "Big Hero 6," Wasabi amplifies his martial arts skills with jaw-dropping plasma blade weaponry. Sharp doesn't even begin to describe this guy.
Genesis Rodriguez ("Tusk" and "Run All Night") was called on to help bring Honey Lemon to life. It's elemental when it comes to chemistry whiz HONEY LEMON. Don't let her glasses and funky fashion fool you: Honey may be as sweet as her namesake, but she has a fire in her belly and a can-do attitude that make her pretty much unstoppable. Her knowledge of alchemy proves powerful, too, when the effusive brainiac becomes part of the "Big Hero 6" and creates clever concoctions that when thrown, can get her team out of nearly any jam.
Daniel Henney ("X-Men Origins: Wolverine") was called on to give voice to Tadashi Hamada. Tadashi is a good guy. He just is. He actually developed, built and programmed a state-of-the-art nursebot—a Healthcare Companion named Baymax that will likely help millions worldwide. But it's his role as big brother that makes Tadashi truly special. Every kid needs a guy like Tadashi looking out for him, and Hiro knows just how lucky he is to have him in his life.
Maya Rudolf (TV's "Saturday Night Live," "Maya Rudolph Variety Show," Bridesmaids") provides the voice of Aunt Cass, who's the overworked but always-supportive guardian of brothers Hiro and Tadashi. The owner of a popular San Fransokyo bakery and coffee shop, Aunt Cass is proud, ebullient and thinks the world of her two genius nephews. She's always good for a laugh and ready with a hug, tirelessly there for support and a great home-cooked meal.
Voiced by James Cromwell ("Murder in the First," "L.A. Confidential"), Professor Robert Callaghan heads up the robotics program at the prestigious San Fransokyo Institute of Technology and is Tadashi's professor and mentor. When Hiro visits the university for the first time, he is star-struck by the world-renowned roboticist—while Callaghan immediately sees the potential in the 14-year-old prodigy, encouraging him to put his brain to better use.
Pioneer entrepreneur and tech guru Alistair Krei is voiced by Alan Tudyk ("Tell," "Welcome to Me," "42"). San Fransokyo Institute of Technology's most illustrious alum and owner of the biggest technology company in the world, Krei Tech, is always on the hunt for the next big thing. Krei attends the showcase at San Fransokyo Tech and is overwhelmingly impressed by Hiro's ingenuity.
Yokai is the silent masked man behind the terrible tragedy that strikes San Fransokyo, turning Hiro's world upside down. As a result, Hiro transforms a group of nerds into a team of high-tech crime fighters—"Big Hero 6"—with one mission: Track down Yokai and bring him to justice.