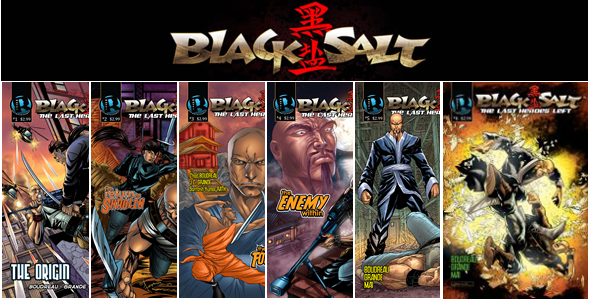 The short film is the next phase in the cross promotion of the brand and the precursor to the Black Salt feature film.
Ratti Entertainment LLC has announced today that the Black Salt comic book series is in pre-production for a 6 minute film short. Philip Daay has penned the script and Jamie Ruddy will direct. Ratti Entertainment, LLC will produce, distribute and market the short film as part of the next phase of the strategic multi-media marketing campaign to cross promote all products under the Black Salt brand. The short film is also a precursor to the Black Salt feature film.
Black Salt is a multifaceted transmedia franchise with strong international appeal. The story will be told across multiple media platforms, with each element making a distinct contribution to the audience's awareness of the Black Salt brand and other brands cross-promoted in the film. Black Salt is an epic thriller merging the world of modern-day espionage and political intrigue with the ancient world of martial arts. Ratti Entertainment LLC has just finished the 5-year development phase of the feature film and is preparing to enter pre-production. The film has positive role models and is expected to obtain a rating no more restrictive than PG-13, to capture a wider target market. The franchise includes, but is not limited to, the following: Black Salt collectible items, all with integrated branding opportunities: Apparel Line, Comic Books, Trading Cards, Toys, Animated Series, Video Games and Feature Film Trilogy.
Ratti Entertainment LLC first launched a strategic grass roots marketing and promotional campaign to create awareness of, interest in and demand for the franchise. Then some of the merchandising product lines were developed (comic books, graphic novel, apparel, video game, etc.) to create multiple revenue streams and a target market. The marketing campaign has generated more than 1.5 million hits on the website, hundreds of consumer email inquiries, write-ups in blogs and magazines, as well as invitations to speak about and showcase the Black Salt projects at major comic, anime and video game conventions and film industry events. The goal is to have a database of at least 5 million customers, before the completion of principal photography.
"We're very excited about the film short. We feel that this will be instrumental in enhancing our branding and marketing endeavors for Black Salt and our other projects" said Owen Ratliff, CEO of Ratti Entertainment LLC.
More information on the Black Salt project can be found on the official Black Salt website:http://www.blacksaltfilm.com
About Ratti Entertainment LLC
Ratti Entertainment LLC is the production company for the Black Salt feature film franchise. The Company also specializes in taking independent film projects and turning them into transmedia intellectual properties. Ratti has offices in Ohio, Los Angeles and New York.
Contact:
Owen Ratliff
Ratti Entertainment LLC
614-338-1696
Email: oratliff7306(at)wowway(dot)com
Website: http://www.blacksaltfilm.com
# # #