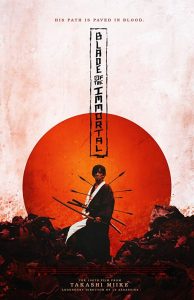 The Japanese action, drama, fantasy film, Blade of the Immortal (2017) is directed and written by Takashi Miike with the manga by Hiroaki Samura and the screenplay by Tetsuya Oishi. The film stars Takuya Kimura, Hana Sugisaki, and Sôta Fukushi.
The film received 10 award nominations including Best Supporting Actress- Hana Sugisaki, Best Action Film, Best Costume Designer – Yûya Maeda at the Asian Film Awards 2018, Best Foreign Language Film at Austin Film Critics Association 2017, Fantasia Film Festival 2017, Houston Film Critics Society Awards 2018, Phoenix Film Critics Society Awards 2017, and the Seattle Film Critics Awards 2017.
In Blade of the Immortal (2017), Manji, a highly skilled samurai, becomes cursed with immortality after a legendary battle. Haunted by the brutal murder of his sister, Manji knows that only fighting evil will regain his soul. He promises to help a young girl named Rin avenge her parents, who were killed by a group of master swordsmen led by ruthless warrior Anotsu. The mission will change Manji in ways he could never imagine – the 100th film by master director Takashi Miike.
The film opens in the United States on November 3, 2017.