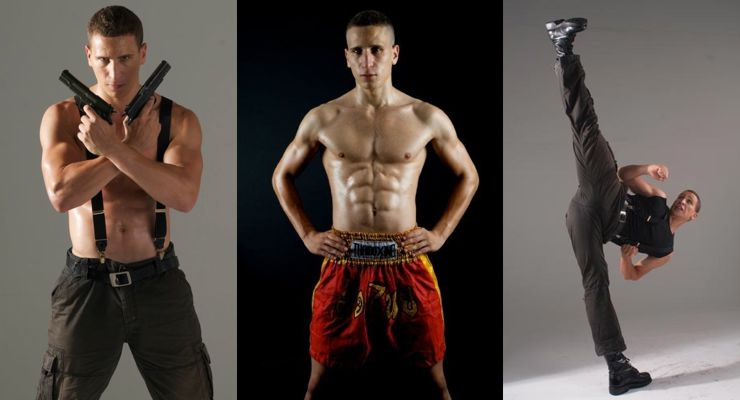 Brahim Achabbakhe is a French martial artist, as well as a stuntman and actor who has worked with Tony Jaa's mentor, Yuen Woo-Ping, with Panna Rittikrai, Jean-Claude Van-Damme, Gary Daniels, Keanu Reeves and many more actors, directors and stunt performers.
He was born on May 17 1984, in Beaumont, France to a family with five children. His parents are originally from Morocco, but they immigrated to France before Brahim was born.
At 14 years of age he began to study martial arts after watching Jackie Chan's movie First Strike. He was entirely envenomed with the way Jackie Chan moved and how he brought together his acting, comedy and fighting without using stunt doubles. His first art was aikido and then added karate, studying both for arts for 4 years. He has a black belt in karate. He began studying tricking under Kazu Neda after attending a martial arts tricking tournament and he continues to has study tricking after more than 12 years. when he was 22 years old he traveled to Bangkok, Thailand where he made a commercial for K-1.
Brahim Achabbakhe is known for his stunt work. In 2009 Brahim Achabbakhe was a stunt performer in the movie Street Fighter: Legend of Chun-Li starring Kristin Kreuk and Michael Clarke Duncan. He also played Thug in Tenement House in Street Fighter: Legend of Chun-Li. In 2010 he had stunt roles in several major film projects including The Eagle Path aka Soldiers, where he was the stunt double for Jean-Claude Van Damme. In 2011 he was stunt double for Kevin Bacon in Elephant White. In 2013 he was the stunt coordinator and the stunt double for Scott Adkins in Ninja: Shadow of a Tear.
More recently in 2013 Brahim Achabbakhe worked on Man of Tai Chi, directed by Yuen Woo Ping, playing the Taekwondo fighter. In Pound of Flesh, due out in 2015, he is the stunt double for Jean-Claude Van Damme as well as doing post production stunt work for the film. He has an acting role as Nardo in Pound of Flesh. He is also the fight choreographer for Fight Street as well as acting in the film as Christian.
Brahim Achabbakhe 2014 Demo Reel