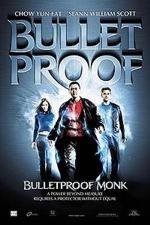 Director: Paul Hunter
Writers: Ethan Reiff, Cyrus Voris
Stars: Yun-Fat Chow, Seann William Scott and Jaime King
Bulletproof Monk (2003) is a martial arts action/fantasy film starring Chow Yun-Fat, Seann William Scott and Jaime King. The film was directed by Paul Hunter. It is loosely based on the comic book by Michael Avon Oeming. The film was shot in Toronto, Ontario, and Hamilton, Ontario, Canada. Based on the very underground comic book, an immortal Tibetan monk finds a mentor in a young street kid whom he can teach to protect the ancient scroll he's been guarding for the last sixty years. With the help of a sexy and elusive young woman named Bad Girl, they come together to do battle with the kung fu master who'll stop at nothing to get the scroll.