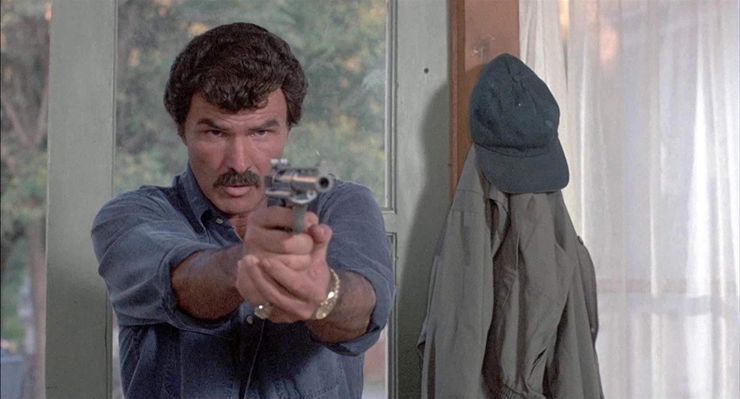 Burt Reynolds started his work in the entertainment industry working in T.V. westerns in the 1960s and then became a sex symbol in 1970s and 80s, actually posing nearly naked for Cosmopolitan magazine. He was also a rugged action figure and then a wisecracking, Southern type of "good ol' boy."
Burt Reynolds was born in Lansing, Michigan. He was the son of Fern (Miller) and Burton Milo Reynolds, who was in the army. After World War II, Burts family moved to Riviera Beach, Florida, where his father was chief of police. Burt excelled as an athlete and played football for Florida State University. He became an All Star Southern Conference halfback and was even earmarked by the Baltimore Colts, but a knee injury and then a car accident ended his football career. Midway through college he dropped out and headed to New York with aspirations of becoming an actor. There he worked in restaurants and clubs while pulling the odd TV spot or theatre role.
After Burt Reynolds was spotted in a New York City production of "Mister Roberts," he was signed to a TV contract, and eventually had recurring roles in such shows as Gunsmoke (1955), Riverboat (1959) and his own series, Hawk (1966).
Reynolds continued to appear in undemanding western roles, and he often played a character of half Native American descent, in films such as Navajo Joe (1966), 100 Rifles (1969) and Sam Whiskey (1969). However, it was his tough-guy performance as macho Lewis Medlock in the John Boorman backwoods nightmare Deliverance (1972) that got him recognized. Reynolds' popularity sky rocketed with his appearance as a no-nonsense private investigator in Shamus (1973) and in the Woody Allen comedy Everything You Always Wanted to Know About Sex * But Were Afraid to Ask (1972). Building further on his image as a Southern boy who outsmarts the local lawmen, Reynolds packed fans into theaters to see him in White Lightning (1973), The Longest Yard (1974), W.W. and the Dixie Dancekings (1975) and Gator (1976).
At this time, ex-stuntman and longtime Reynolds buddy Hal Needham came to him with a "road film" script. It turned out to be the incredibly popular Smokey and the Bandit (1977) with Sally Field and Jerry Reed, which took in over $100 million at the box office. That film's success was followed by Smokey and the Bandit II (1980) and Smokey and the Bandit Part 3 (1983). Reynolds also appeared alongside Kris Kristofferson in the hit football film Semi-Tough (1977), with friend Dom DeLuise in the black comedy The End (1978) (which Reynolds directed), in the stunt-laden buddy film Hooper (1978) and then in the self-indulgent, star-packed road race flick The Cannonball Run (1981).
The early 1980s started off well with a strong performance in the violent police film Sharky's Machine (1981), which he also directed, and he starred with Dolly Parton in The Best Little Whorehouse in Texas (1982) and with fellow macho superstar Clint Eastwood in the coolly received City Heat (1984). However, other projects such as Stroker Ace (1983), Stick (1985) and Paternity (1981) failed to catch fire with fans and Reynolds quickly found himself falling out of popularity with movie audiences. In the late 1980s he appeared in only a handful of films, mostly below average, before television came to the rescue and he shone again in two very popular TV shows, B.L. Stryker (1989) and Evening Shade (1990), for which he won an Emmy. In 1988, Burt and his then-wife, actress Loni Anderson, had a son, Quinton A. Reynolds (aka Quinton Anderson Reynolds), whom they adopted.
He was back on screen, but still the roles weren't grabbing the public's attention, until his terrific performance as a drunken politician in the otherwise woeful film Striptease (1996) and then another tremendous showing as a charming, porn director in Boogie Nights (1997), which scored him a Best Supporting Actor nomination. Like the phoenix from the ashes, Reynolds resurrected his popularity and, in the process, gathered a new generation of young fans, many of whom had been unfamiliar with his 1970s film roles. He then put in entertaining work in Pups (1999), Mystery, Alaska (1999), Driven (2001) and Time of the Wolf (2002). Definitely one of Hollywood's most resilient stars, Reynolds continually surprised all with his ability to weather both personal and career hurdles and his almost 60 years in front of the cameras were testament to his staying ability, his acting talent and his appeal to film audiences.
Burt Reynolds died of cardiac arrest on September 6, 2018, in Jupiter, Florida, U.S. He was eighty two.
– IMDb Mini Biography By: firehouse44
Burt Reynolds – But Enough About Me: A Memoir
Burt Reynolds is a Hollywood leading man known for his legendary performances, sex symbol status, and infamous Hollywood romances. In his decades of stardom, Reynolds has seen it all. But Enough About Me will, in his words, "call out the assholes," try to make amends for "being the asshole myself on too many occasions," and pay homage to the superstars and ordinary heroes he has come to love and respect.