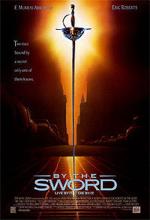 Director: Jeremy Kagan
Writers: James Donadio, John McDonald
Stars: F. Murray Abraham, Eric Roberts and Mia Sara
By the Sword is a 1991 film starring F. Murray Abraham and Eric Roberts as world-class fencers. It is directed by Jeremy Paul Kagan and it is the first feature film about fencing. Although some reviews of its 1993 U.S. theatrical release noted favorably the lead acting and action sequences, the screenplay was considered "terrible". A mysterious man, Suba, gets a job at a fencing academy, and as he learns the way of the students, the school, and its maestro, they learn that there's more to him than meets the eye. He gains (or regains?) his fencing skills and his philosophy of teaching clashes with the maestro's. As they are thrown into conflict, Suba and the maestro's past appear to be linked. And the resolution of their mysterious relationship may be a duel to the death.