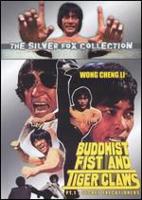 Director: Woo-ping Yuen
Starring: Shun-Yee Yuen, Siu Ming Tsui
Not Rated.
Famed martial arts director and choreographer Yuen Woo-ping spins this old school period kung-fu flick featuring some particularly amazing fight scenes. The The Buddhist Fist opens with inept coiffeur Shang (Yuen Shun-Yi) getting canned from his job and returning to the hinterland to find his old man. Once there, he is unable to find his dad, who mysterious disappeared. Shang does run into his buddy Si-ming (Tsui Siu-ming), who is now a monk. Having both been raised by the same Shaolin master, the two are crack kung-fu artists in their own right. Si-ming finds himself being blackmailed, when, years ago, he violated his oath by drinking liquor, and subsequently getting framed for the rape and murder of a woman. Now a shadowy crime syndicate has the goods on the monk and forces him to do their dirty work, lest his alleged crimes be revealed. Meanwhile, Shang learns that his father stumbled onto a plot by a bunch of foreigners to steal China's cultural treasures. When Shang also discovers Si-tung's blackmailers role in the whole affair, Shang starts to question the loyalty of his friend. ~ Jonathan Crow, All Movie Guide.