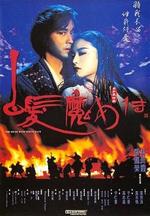 Director: Ronny Yu
Writers: Kee-To Lam, Yusheng Liang (novel)
Stars: Brigitte Lin, Leslie Cheung, Francis Ng
The Bride with White Hair is a 1993 Hong Kong Wuxia film directed by Ronny Yu. The film's main character, Lien Ni-Chang, is very loosely based on the protagonist of Liang Yusheng's novel Romance of the White Haired Maiden. However the director Yu himself saw the film as a "Romeo and Juliet" story and said that the lovers struggle against fate and their heroic duty inspired him more than the familiar trappings of most martial arts adventures. As such the movie departs significantly from the original source .
The sensitive swordsman Cho Yi-Hang is tired of his life as the unwilling successor to the Wu-Tang clan throne and the unsure commander of the clan's forces in a war against foreign tribes and an evil cult. One day, he meets the beautiful Lien, a killer for the evil cult who is equally unsatisfied with her situation, but their love angers both the Wu-Tang clan and the evil cult.