Chef Brian Robinson, a Chef Alumnus from the Culinary Institute of America and master martial artist, is the creator and producer of a new TV show, Family Flavors with Kid Kulinaire along with the after school program Kid Kulinaire, Kid Fun Fit and Kid's Multi-Cultural Martial Arts. Each program is designed specifically to combat the global childhood obesity epidemic through experience and education of children and their parents as a family. Brian was born in Poughkeepsie, New York, and created the Kid Kulinaire based projects while living in Columbus, Ohio. He currently lives in Orlando, Florida.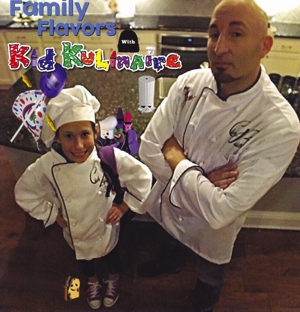 Brian was only 4 years old when he started preparing food with his family and began his professional cooking career at the age of 14 at Coppola's, an Italian restaurant in Hyde Park, New York. In high school (F.D. Roosevelt) he attended the B.O.C.E.S. culinary program while being mentored at various food establishments. Brian David Robinson was the youngest to graduate at 19 years old from the Culinary Institute of America (Hyde Park, NY) in 1990 and since then he has exercised his talents for companies like: Walt Disney World, Hyatt, Brio Millenia & Bonvie (BDI), AVI (Kenyon College), Limited Brands and COSI Children's Museum (Columbus, OH) to name a few. Chef Brian is the Owner and Senior Executive Chef of a restaurant/food service business turn around consulting company Chef Robinson LLC and the entertainment production company Chef Hat Productions. Chef Robinson LLC & Chef Hat Productions are working in partnership with Ratti Entertainment and closely with Vertex BSI, a company developed to create better-for-you foods and beverages for active people, who recently became a proud sponsor of Family Flavors with Kid Kulinaire. Additionally, Chef Robinson LLC and Chef Hat Productions are in talks with the Japanese international website Cookpad which provides simple and healthy on-line recipes for families.

Chef Robinson LLC recently worked in partnership with The Metiers Gala Fashion Show to raise funds and awareness for the Orlando Children's Hospital Foundation. Chef Brian led the event in cooperation with the MG executives and Jeannie Mok of the Jay Richardson Foundation while bringing in various sponsors and talent such as: Real Music Records, Ratti Entertainment, Dawn Branch Works Contemporary Dance Company, Let's Make A Movie, Prophocy and Natalia Novais Galan just to name a few.
Brian is also dedicated to the martial arts and is an internationally ranked Master in Tae Kwon Do, Kung Fu, Tai Chi, Karate, Chinese Kenpo, Reiki and trained in Capoeira. In addition, Brian is a Master Level Member of the Black Dragon Fighting Society. His disciplined nature and esteemed reputation has allowed him to be inducted into the International Martial Arts Hall of Fame twice, once in 2002 for his "Dedication to the Arts" and then again in 2003 as the "International Martial Artist of the Year." Combining Brian's passion for Martial Arts and entertainment, Brian David Robinson is Development Executive and Producer for the Martial Arts action film Black Salt.
Actor Brian David Robinson, in August of 2015, was asked by Grand Master Victor Moore to join his Traditional World Karate Association honoring Brian's ranks and dedication to teaching traditional martial arts, their values and culture. In doing so, G.M. Moore also has endorsed the "Kids Multi-Cultural Martial Arts" after school program (by Kid Kulinaire).
Brian's passion for nutrition, fitness, martial arts and teaching children has lead him to combine his passions into the Kid Kulinaire after school programs focused on the childhood obesity epidemic through the areas of Food and Fitness as a Family while having Fun. Kid Kulinaire and Family Flavors with Kid Kulinaire are an effort to give parents and guardians the information and methodology needed to teach their children to make healthier choices and eating habits in an atmosphere that is enjoyable for both.
In 2015, Chef Brian Robinson created a non-profit organization Healthier Choices for a Hungry Child to support his intuitive to ensure all hungry children and families have healthier choices in food and fitness while working with various organizations and government entities in feeding all children healthier food options available to them.