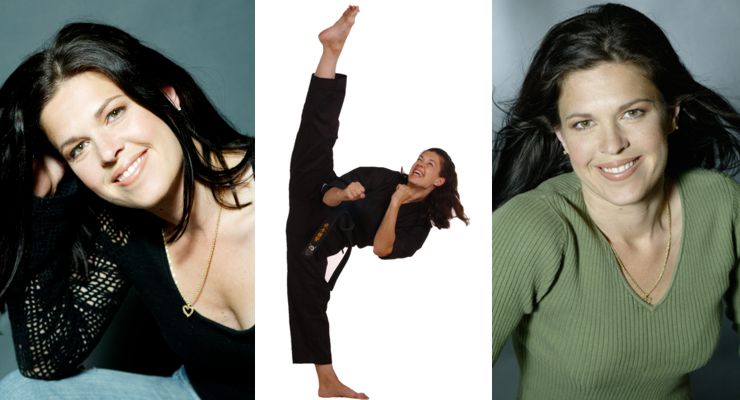 Christine Bannon-Rodrigues Latest World Champion Cast In "The Martial Arts Kid"
As filming has begun on "The Martial Arts Kid" this week, 9-time World Champion Christine Bannon-Rodrigues has been confirmed as an addition to the cast.
"I am looking forward to having a cameo appearance in the Martial Arts Kid movie that begins filming this week in Florida", Bannon-Rodrigues said in confirming her casting.
Bannon-Rodrigues is one of the biggest jewels in an already overstuffed treasure chest of martial arts champions and masters to be part of "The Martial Arts Kid".
It is also her first role in a major film since 2004's "Sc-Fighter", which, like "The Martial Arts Kid", was co-headlined by martial arts/action-movie legends Cynthia Rothrock and Don "The Dragon" Wilson.
Bannon-Rodrigues is the winner of over 100 major National and International Karate Tournaments. She has won a total of over 1,000 trophies in her competitive career, as well as over 100 Grand Championships.
Bannon-Rodrigues's accomplishments at the W.A.K.O. (World Association of Karate and Kickboxing Organizations) Games has earned her several world records, including the honor of having been the only person – man or woman – to have ever won three World Titles at a single event.
Bannon-Rodrigues established another world record when she did the same in 1993, making her the first person in history to have ever won three World Titles in two consecutive W.A.K.O. Games. Her aggregate total of 9 World Titles is yet another unprecedented and as of yet undisputed world record.
Bannon-Rodrigues is the chief instructor at the Don Rodrigues Karate Academy in Warwick, Rhode Island, a job she has held since 1985. Along with her husband Don, the Academy each April presents the Ocean State Grand Nationals – a well attended and respected event.
Bannon-Rodrigues's martial arts training is diverse, specializing in the following Martial Arts disciplines: 8th Degree Black Belt – Kenpo; Weapon's Defense; Multiple Attacks; Women's Self-Defense; Wushu; Rape Prevention; Judo; JuJitsu; Chinese Weaponry; Bo / Staff and Sword.
Bannon- Rodrigues has also been inducted into multiple Halls Of Fame, Including: Black Belt Magazine's; Inside Kung Fu Magazine's; Budo International Magazine's; NASKA's; PKL's; Action Magazine's and Krane International's