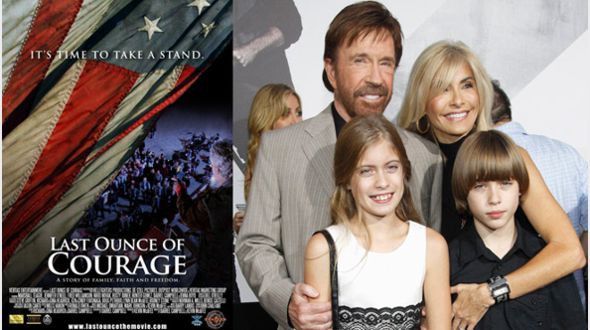 "Last Ounce of Courage," is an intergenerational story of a grieving father inspired by his grandson to take a stand for faith and freedom against a tide of apathy and vanishing liberty. Against a backdrop of military conflict abroad and domestic wars against freedom, a highly-decorated combat veteran is reminded that we best honor our fallen heroes by not holding too loosely what they gave their all to defend. Alongside fellow citizens of courage, faith and integrity, he champions the cherished principles we the people hold dear.
Starring Marshall Teague ("Roadhouse," "The Rock" and "Armageddon") as small-town mayor Bob Revere, "Last Ounce of Courage" uses the vehicle of a public religious display to ignite a spark and lights a fire under a community that honors its American values, but has tired of fighting the "American Civil Liberties Organization" (ACLO) over the very rights guaranteed them by the Constitution. Former NFL great Fred Williamson ("Black Caesar") ably plays the villain in the film as the head of the ACLO.
Encouraged by his grandson, played by Hunter Gomez ("National Treasure"), and his wife Dottie, played by Academy Award nominee Jennifer O"Neill ("Summer of "42"), Bob finally takes a stand for his beliefs and revives his townspeople"s latent patriotism. Leading the younger generation to join in and make a difference is Bob"s young neighbor, Maddie Rogers, played by Jenna Boyd ("Sisterhood of the Traveling Pants"), who comically hijacks the town"s annual generic school pageant.
The film is being produced by Veritas Entertainment, under the leadership of Kevin McAfee ("Beyond the Gates of Splendor," "The End of the Spear") and Steve Griffin (former CEO at Nest Entertainment and EMI/Chordant), both of whom have a passion for creating and reaching audiences with entertainment products centered around the character values that undergird family, faith and freedom.
"It was an easy choice to endorse this film because it's message is consistent with my life principles and core values," Norris, a devout Christian and champion of American values and those who serve our nation, told FOX411's Pop Tarts column. "I've been asked to lend my name to endorse causes and projects for years, and I never had a mechanism to do that. A few years ago I decided to create a seal of approval as a marker that is consistent with my core values." ~ Chuck Norris