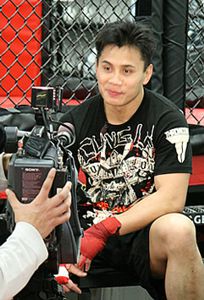 Cung Le is about to explode on the big screen. America's leading Sanshou fighter and Strikeforce Middleweight Champion has four major films lined up for FIGHTING (2009), PANDORUM (2009), TEKKEN (2010) and TRUE LEGEND (2010). On top of this, Cung has a major MMA belt to defend. We caught up to Cung in March to get the scoop.
"This is my fight situation right now," said Cung Le at his Universal Strength Headquarters in Milpitas, CA. "Frank (Shamrock) gave me the shot at his title belt. Right now, I'm so busy with everything that's going on. I hear he wants a rematch, so I will honor that rematch, but that's probably the only fight right now that I can take this year because I have a lot of projects. On April 11, Frank Shamrock faced Nick Diaz at San Jose's HP Pavilion in STRIKEFORCE's headlining bout, televised live on Showtime. Diaz dominated the fight. He was so confident during the fight that he was clowning on the "Legend," repeatedly dropping his guard to taunt Shamrock. During the second round, Diaz buckled Shamrock with a punishing blow to his midsection. Shamrock fell in a corner and Diaz rained punches on Frank's head. Shamrock struggled to defend, but the referee stopped the fight at 3:57 giving Diaz the win. It left many fans wondering if Shamrock is at the end of his glorious career.
Cung was there, not only as one of STRIKEFORCE's champions, but also to corner his fighter James Terry in his bout against Zac Bucia on the undercard. That was the only bout of the night that went the distance. It was a decisive night for STRIKEFORCE, with all the other nine bouts ending in a KO or TKO. Terry repeatedly dropped Bucia with textbook sanshou takedowns. After three five-minute rounds, Terry was declared the winner by unanimous decision. Also wearing a Cung Le: James Terry T-shirt (on crutches and in a cast) was Josh Thomson. Thomson currently holds the STRIKEFORCE Lightweight World Champion belt and was set to defend it against Gilbert Melendez that night, but he broke his leg less than two weeks before the fight. Thomson now trains under Cung. Melendez wound up fighting Rodrigo Damm for the Interim STRIKEFORCE Lightweight Championship. Damm, who had less than ten days to prepare, was defeated at 2:02 of round two.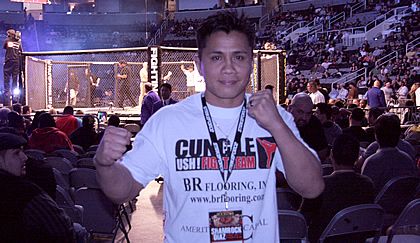 Cung Le struck quite a presence at STRIKEFORCE: SHAMROCK VS. DIAZ. Whenever he was shown on the big screens, the crowd went wild. The only fighter that got more cheers was Gina Carano, and she has a way of getting an MMA crowd worked up just by biting her lip. However, Cung's image was bigger with the impending release of his first nationally released feature film, FIGHTING, poised to premiere less than two weeks after the fight. There were FIGHTING ads all over the auditorium. The trailer was shown on the big screen during breaks. The film's logo was even emblazoned on the corner posts of the cage. For Cung Le, STRIKEFORCE and FIGHTING, this was a synergistic moment for mass mutual promotion. "The movies that are about to come out, I have to help promote them," said Cung. "So I've been running kind of crazy trying to promote the movies that are coming out and what I got lined up next.
"I'm staying in shape right now. I'm not in top fight shape, but I got three rounds in me, three five-minutes, but I just don't want to just have three rounds in me. I'll take at least two to three months of hard training because I'm always training. If I over train, I don't want to come into a fight flat. I get at least two to three times a week on sparring with the guys. Other than that, I'm just doing my best to bring sanshou into the big screen, which I got a chance to do a little bit in FIGHTING, with Channing Tatum and Terrance Howard."
FIGHTING
Le has been featured in a few independent films before, but FIGHTING marks Cung Le's big screen debut. The film reunites director Dito Montiel and lead Channing Tatum from A GUIDE TO RECOGNIZING YOUR SAINTS (2006). Based on Montiel's semi-autobiographical novel, the film won accolades at Sundance. Tatum burst into the movie scene in 2005 and has already been featured in nearly a dozen films. FIGHTING marks Tatum's first lead role. Also starring in FIGHTING is Academy Award nominated rapper and actor Terrance Howard.
GC: With the rise of MMA, there's been a trend towards MMA movies like Mamet's REDBELT or NEVER BACK DOWN. Is this another MMA film?
CL: I wouldn't classify this as an MMA movie at all. It's would be more like a mix of LIONHEART and FIGHT CLUB.
GC: So today, with the rise of MMA, do you think that there are really underground fights like this anymore?
CL: I don't think so, unless no one's paying attention to it. Of course, with MMA, there's lines. You can bet on the amount. Of course, I don't know. I'm not exposed to the underground life. (laughs)
GC: Where was it filmed?
CL: They just rented out a big warehouse where we shot. They dressed it up. It was actually shot in New York.
GC: Is this about a reluctant fighter?
CL: It's someone who's just trying to survive on the streets and gets taken under the wing by a guy who knows the underground circuit, runs with the underground circuit, and doesn't have a fighter to fight and make something happen in that circuit until he meets up with Channing. They wind up being a good duo, and along the way, as Channing starts to win, he's got to meet with the number one underground street fighter, which is me, Dragon Lee. We battle it out.
GC: How do you feel being the villain?
CL: I don't mind. It's a great experience. It was awesome to work with Channing and be in a big budget movie with great actors like Terrance Howard and a great director like Dito Montiel. It's like going to school and getting paid for it.
GC: How is it for you to work with actors instead of actual fighters?
CL: As long as they're athletic. Because Channing was very athletic, we were able to pull off this fight scene. I think it's all working together, and of course the chemistry.
GC: So tell me about shooting fight scenes.
CL: FIGHTING was a very grueling shoot for fight scene. Both Channing and I – when we were done and on our last day of filming – we were very banged up. I heard that he went to the hospital the next day over blurred vision. They say he had a little fight concussion. I flew home the next morning and I had a little headache myself. I probably had a little concussion myself. But you know me; I'm in and out of the gym with concussions. (laughs) I don't need to go to the hospital unless it's something serious. But I'm sure I had something slight. We let it go in this movie. There's a particular scene in there where Channing had to block one of my kicks, and he told me, "Just let go." And I said, "I don't know if I should do that." And Channing's all, "Dude, just do it. This movie – you can never go back – this is going to be here forever. You can never change what you could have done so just let it go. Don't worry. I was a linebacker in high school and played one year football as a linebacker in college. I can take shots." So I gave him a side-spin tornado kick and I put my shin and gave it a little pop. And I know he saw stars because when the director said "Cut," he was still dizzy. He mentioned that move in ENTERTAINMENT WEEKLY.
GC: What's the difference for you between fighting for real and for film?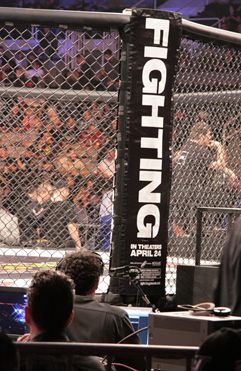 CL: For me, when you fight, you don't have to control. You don't have to pull. You don't need that kind of timing. You can just let it go. Here in film, there's got to be a lot more control and a lot more timing. In order to make it look real, you have to really kick and punch. And take some shots. Of course, in a fight scene in a movie, it's a lot about how you and your opponent in the movie sells the punch or sells the kick. But sometimes you need to let it connect a little in order to get that realness. In a fight, you let it fly. There's a big difference there. One's more controlled and one's more just letting it go.
GC: So this is your big screen debut fight scene. How do you feel?
CL: What I see right now is, fight coordinator and action director said this fight scene has a lot of potential. Depending on how the movie does in the box office, people will recognize it. There's a good chance that it could be nominated for best fight of the year.
GC: What's next for you? More movies or more fights?
CL: I want to keep promoting the traditional martial arts and the sanshou in whatever I do, whether it's another fight, a rematch against Frank or whoever's out there – or if I just completely crossover into film and show myself. Of course, I'll continue on producing champions out of my gym and let them show off what sanshou is all about. Hopefully people will talk about sanshou like they talk about Muay Thai in MMA.
I'm sure a lot of people don't know that Patrick Barry is in the UFC now. I'm sure they're going to see a lot more of him. He was a silver medalist the year I was assistant coach. I believe that was 2003. He's definitely got some vicious kicks and can do some damage for sanshou in MA.
I've got my hands full training myself and my crop of fighters. I got Anthony Johnson who fights in UFC. I got James Terry who just signed a deal with STRIKEFORCE. I have Thomas Diagne from France, who's going to move over here. He's a sanshou champion who's beaten China, who's beaten Iran. So I have a lot of lightweights. Mostly they'll be moving towards the WEC because they're opening up a 125 division. And I'm just pushing sanshou into the world of MMA – just keep the name alive and the traditional martial arts alive in this new and evolving fight era.
GC: Surprise me with something.
CL: I got an MMA action figure coming out sometime in the summer from Round 5.
GC: Nice! How does that feel?
CL: It's awesome. I hoping to get that by Comicon, so when I'm out there promoting action figures, I'll have my own. By that time it'll be close to PANDORUM. The role will hopefully push the sales. I'm the first traditional Chinese martial arts guy in the MMA world to get one.
Written by Gene Ching for KUNGFUMAGAZINE.COM
COPYRIGHT KUNGFUMAGAZINE.COM, ALL RIGHTS RESERVED.
All other uses contact us at gene@kungfumagazine.com