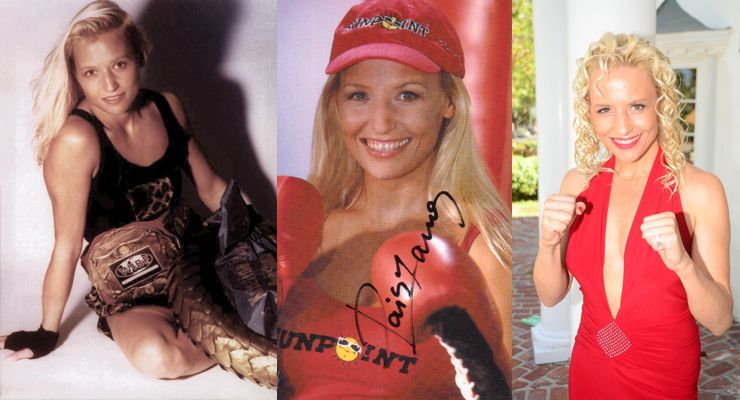 Daisy Lang was born Dessislava Kirova on April 4, 1972 in Sofia, Bulgaria. She is a professional female boxer better known as Daisy "The Lady" Lang. She was WIBF world champion in Super Flyweight from 1999 to 2003. She was GBU world champion in Super Bantamweight in 2003 and she is the residing GBU world champion in Bantamweight.
Daisy began her career i the martial arts. She was a world champion in karate in 1995, European champion in kickboxing in 1994 and 1995. She began boxing professionally in February 1996. In 1996, Daisy Lang won the first three fights of her career, two of them by knockout.
Daisy is not just a champion in boxing and kickboxing, she has also trained as a physiotherapist at the German Sport University, Cologne.
On November 29, 1997 Daisy lost a bout against Michele Aboro in six rounds. Daisy had gone a long distance, however, against Michele Aboro, who has remained unbeaten with 6 wins all knockouts. Daisy won another fight in February 1998 and she won the vacant WIBF European Bantamweight title against Krisztina Horvai in ten rounds.
After winning another fight by knockout in round 2, she defended the WIBF European Bantamweight title on March 27, 1999 against Anastasia Toktaulova. Daisy won the fight in ten rounds. On July 17, 1999 she became world champion against Gizella Papp in a fight for the vacant WIBF Super Flyweight title.
From 1999 to 2002, Daisy Lang successfully defended the title against Sonia Pereira, Kathy Williams, Oana Jurma, Brenda Burnside, Nadia Debras, Michelle Sutcliffe and Réka Krempf. On September 14, 2002 she won against Lisa Foster in a fight for the GBU world Bantamweight championship in ten rounds.
She drew against Silke Weickenmeier on January 18, 2003, in a fight for the GBU Super Bantamweight title, but won the rematch on May 10 with a majority decision in ten rounds. On November 15, 2003 she lost against Galina Ivanova in ten rounds, in a fight for the WIBF Super Flyweight title.
After another win in 8 rounds, on May 29, 2004 she lost against Regina Halmich in a fight for the vacant IWBF Super Flyweight title, in ten rounds by unanimous decision. In October 2004 she won another fight by knockout in early rounds.
Daisy Lang has a boxing record of 19 wins, 1 draw and 3 losses, with 7 wins by knockout.
Daisy's success in sports made her a popular guest on Television shows in various countries and a frequent subject of German and other international magazine articles. After a successful decade in the European sports world, Daisy relocated to Los Angeles to concentrate on her acting career and business. In 2007 she became a member of SAG-AFTRA and has been working in films and commercials, mostly in action roles.
She is know for her acting roles in The Gold & the Beautiful (2009), Missionary Man (2007), Undisputed 2: Last Man Standing (2006),  and Frogmen Operation Stormbringer (2002).
Daisy Lang is also a physical therapist who uses her experience as a world class athlete and her knowledge in the medical field to promote boxing as a way to stay in physical and mental shape. Since 2008 she has been a regular guest-speaker for the Rotary Club.
Daisy Lang currently resides in Los Angeles, California in the USA.
Daisy Lang Professional Boxing Record on BoxRec
Fighting Tribute for Daisy Lang
More Daisy Lang YouTube Videos (Foreign Language)
"World Boxing Champion Daisy Lang on German TV"
"Sport Studio-ZDF tv. Guest:Daisy Lang"
"ZDF Sport reportage about the World Boxing Champion Daisy Lang"
"SAT-1 TV.-Guest:Daisy Lang-"The Beauty and Beast"