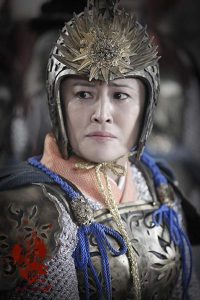 Actress and stuntwoman, Yukari Oshima was born Yukari Tsumura on December 31, 1963 in Fukuoka City, Fukuoka, Japan. She was the daughter of a Japanese businessman and a Chinese woman and she spent her childhood in Nishi-ku, Japan. When Yukari was in elementary school her parents divorced and she lived with her mother, who ran a little restaurant. As a youth, Yukari practiced Goju-ryu Seigokan karate at Ennouji Dojo, as well as judo and gymnastics at a competitive level and she would represent Japan's Kyushu Island in several competitions, eventually winning the Woman's National Karate Championship. Yukari Oshima's physical conditioning allowed her greater than 180-degree leg extensions and this resulted in incredibly high kicks. Her roundhouse kicks could reach to the neck or head of her opponents while other's roundhouse kicks reached only to the torso.
She was one of Japan's brightest female martial artists during the 1980s and a leading figure in the babes and bullets fad of Hong Kong action cinema.
Yukari Tsumura went on to attend the Nippon College of Health and Physical Education for women where she studied physical education. There she saw the film Young Master (1980), directed and starring Sing Lung, and she decided to enroll in Sonny Chiba's training school for aspiring martial arts film actors and stunt performers known as the Japan Action Club or JAC so she could become a stuntwoman.
Yukari Tsumura would eventually changed her name to Yukari Oshima and debuted in the TV series Super Electron Bio-Man (1984). At that time one part of JAC, "Asia Action", became independent and based in Hong Kong so Yukari Ôshima decided to leave Japan for Hong Kong.
Japanese actor Yasuaki Kurota was an acquaintance of Oshima's sifu and he introduced her to Chinese director Sammo Kam-Bo Hung, who gave Yukari Oshima a bit part in the martial arts film Shanghai Express (1986) and this helped her begin a career in Hong Kong action which lasted until 1994. After performing in more than 20 Chinese films, she divorced star Mark Cheng, whom she had married in 1991, and left Hong Kong for the Philippines. In the  Philippines Yukari Oshima changed her name for the second time to "Cynthia Luster" (Sincere Raster) and once again perform in more than 20 films usually working with Philip Ko who she married in 1995. In the Philippines she became known as the female equivalent to Jackie Chan. Toward the end of the decade she returned to make more films on the Japanese Mainland.
She is best known to Western audiences as Yomi in Riki-Oh: The Story of Ricky (1991).  Yukari Oshima last noteworthy appearance was in "It Takes a Thief" (1999). As a female action performer, no one would equal Yukari Oshima abilities to take falls or her capacity to take and give physical punishment.