On February 7, 2014, WELCOME TO THE JUNGLE debuts in a limited theatrical release and on VOD. The film showcases many leading comedians from the small screen: Adam Brody (The O.C.), Megan Boone (The Blacklist), Kristen Schaal (30 Rock, The Daily Show), and Dennis Haysbert (24, The Unit). But for fans of martial arts movies, the standout star is the one and only Jean-Claude Van Damme. It is the first laugh-out-loud comedic role of his action-packed career, a career that spans three decades now and over fifty films. JCVD stars as former Marine Storm Rothchild, an unhinged guide leading a "team building" corporate retreat on a tropical desert island. The retreat goes horribly wrong and the rest of the cast must struggle to survive.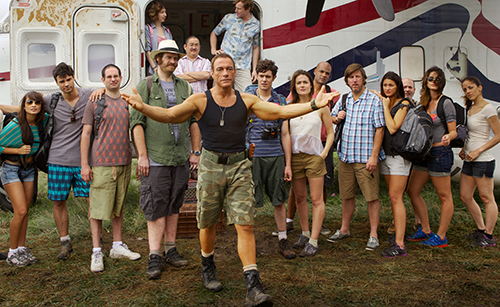 WELCOME TO THE JUNGLE also stars two of JCVD's children: his son, Kristopher Van Varenberg, and his daughter, Bianca Bree. We had the privilege of chatting with both JCVD and Bianca on separate occasions about WELCOME TO THE JUNGLE.
JCVD on WELCOME TO THE JUNGLE
GC: What made you decide to take on a comedy role?
JCVD: The script was funny and the cast was fresh and great.
GC: How is playing comedy different than doing martial arts for you?
JCVD: In comedy, you kick more with words and expressions, but it can hit just as hard as a helicopter kick.
GC: What's it like working with a bunch of comedians as opposed to the martial arts and action co-stars that you usually work with?
JCVD: Real talent is real talent in any genre. It was a pleasure.
GC: Your website says you were skinny and shy as a kid. Can you identify with Adam Brody's character Chris?
JCVD: The comparison had not really crossed my mind. In person, while Adam is rather slim, he projects a real presence.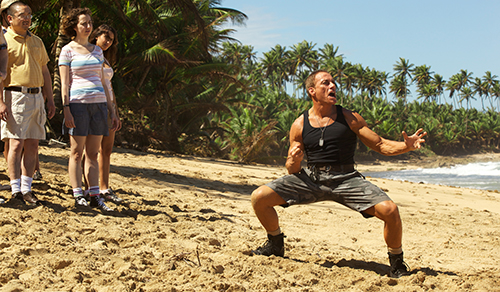 GC: In 2011, you became a poster boy for a controversial anti-fur campaign for GAIA (Global Action in the Interest of Animals). Were you thinking about that when Storm is attacked by a tiger? (Not a spoiler – it's in the trailer.)
JCVD: Not really. I was thinking more about what the tiger was going to do and whether he wanted a Van Damme coat.
GC: You're now in your fifties and are still in amazing shape. What's your secret?
JCVD: That's why they call it a secret.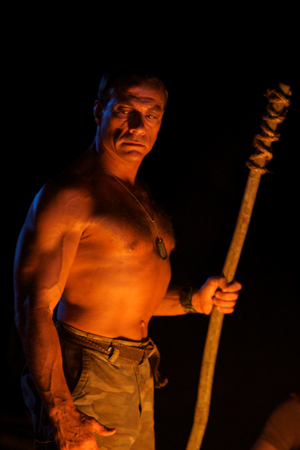 GC: How much time do you have to spend training nowadays?
JCVD: I still maintain an intensive regular training program.
GC: You've been turning out several projects a year for years now. How do you manage to keep it all up?
JCVD: I love what I do for a living. It makes it easy to keep active when you enjoy what you do.
GC: Jackie Chan, Jet Li, even Zhang Ziyi, have all talked about retiring from action film. How about you?
JCVD: Like the old song said, "You Ain't Seen Nothing Yet."
GC: In your film JCVD (2008), you gave a brutally honest self-portrait of yourself. Now in WELCOME TO THE JUNGLE, you're almost parodying yourself. How would you compare these two roles?
JCVD: In fact, they are both parodies but from different angles, and I enjoyed doing both films.
GC: You've had a lot of detractors over the years. Why do you think that might be?
JCVD: Anytime you are in the limelight you end up with both fans and detractors. That is part of life and I accept it. You forgot to ask about the retractors.
GC: This is your third decade in the movie business. Do you have any advice for young aspiring action stars?
JCVD: Get out there and have some fun.
GC: You've become a spokesperson for GoDaddy.com. How does it feel to step into Danica Patrick's shoes?
JCVD: They were not my size, so I had new shoes made.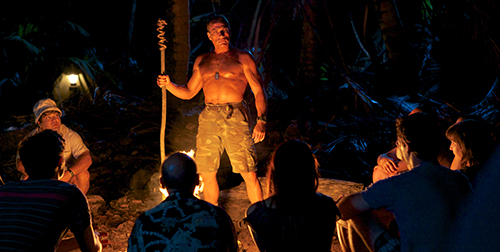 GC: Were you surprised when your Epic Split for Volvo went viral?
JCVD: After it went viral, doctors started looking for a cure. Crichton may write a medical novel about it.
GC: You've got the most famous splits in the world. What kind of training did it take to get them and how hard is it for you to maintain them?
JCVD: Some of it comes from training, some probably is just how I was born, and it only hurts when I do them.
GC: You even managed to show your signature split in KUNG FU PANDA 2 (2011) . Will we see one in WELCOME TO THE JUNGLE?
JCVD: No spoilers please. You have to see the film.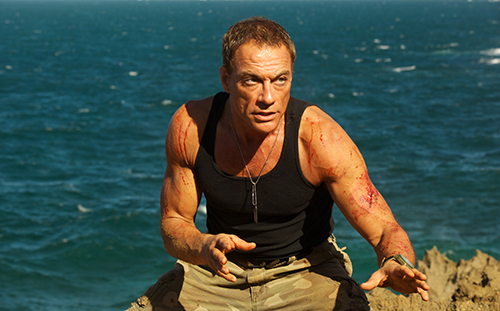 Bianca Bree on WELCOME TO THE JUNGLE
GC: What was it like watching your dad parody himself in WELCOME TO THE JUNGLE?
BB: It was actually very entertaining. It was funny. (laughs)
GC: Why do you go by Bree instead of Van Damme?
BB: Bree is my middle name and it's nothing egotistical. It's just an individual personal decision.
GC: Your brother Kristopher is also in WELCOME TO THE JUNGLE. What's it like making a movie with your family?
BB: It's very entertaining because when we're shooting, everybody focuses on the shooting. And then when we're not shooting, if the cameras aren't rolling, we just all hang out and have a lot of bonding time. It's actually more family-oriented than being at home because we're travelling, and when we're on the set together, it's when we can catch up.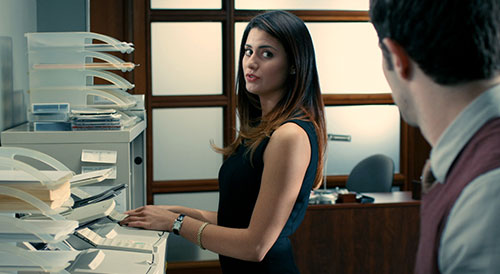 GC: Is there any sibling rivalry for screen time?
BB: No, no. Not on my side at least. (laughs)
GC: You've done fight scenes with your dad in previous films. What was that like?
BB: It was fun. I wish I could have done more, but it was very fun. And that's because he's been doing it for years so he's teaching me as we're shooting so it all works out for the better.
GC: What made you decide to take on a comedy role?
BB: I don't know actually. I can't really answer that one. I just kind of did it.
GC: How is playing comedy different than doing action films for you?
BB: Well, I don't really do much in WELCOME TO THE JUNGLE, but I'm working on another film that I just finished that's a comedy, and it's funner to do comedy than to do action or anything else like that.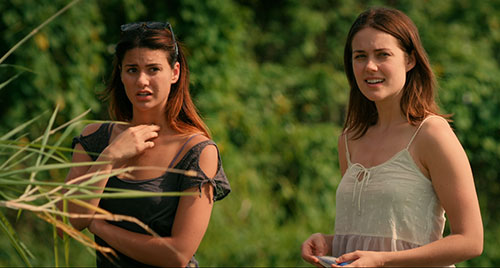 GC: How so "funner"?
BB: It's just way more fun. But also, action is fun to do because you get to kick and all that stuff, you know?
GC: Your mom was a bodybuilding and fitness champion. That must have given you a serious genetic advantage. Did you feel pressured to excel physically while growing up?
BB: Yeah, my mother, of course, is Gladys Portuguese, and also my father is very athletic and is in martial arts, so I guess naturally my brothers and I have a better ability in taking on sports or following after their footsteps. I think it's a lot of genetics. And also, growing up, they would talk to us about being clean and being straight, no smoking or drinking. So I think it's the best of both worlds because even if it wasn't genetic, given the mental strength that they have, we have as well because we were raised with that, you know?
GC: Sure. Did your parents push you to compete?
BB: No. Actually, growing up, my parents put us, my brother and I, both in Karate, and I never cared for it. But they never made us do any competitions. My older brother Kristopher, he was more into the competitions. Now I do more Kickboxing and Boxing and I'm taking it more seriously than I was before. But they were like, if we liked doing it, then they supported us, and if we didn't like doing it, then they would follow what we liked and what we didn't like, you know? There was no pressure on that.
GC: I've seen video of you doing your father's helicopter kick. Did you inherit his epic splits too?
BB: Yeah, well, see, this is the thing. That took me like a week to do. So I practiced for a week and I just went for it. I've always had my splits, it's just I stopped doing ballet and I stopped stretching for a while. So it's hard to get it back but I have it back now. My brother Kris, he's always had it since he was young. I just had to work a little harder on it.
GC: Do you plan to pursue action roles?
BB: Yeah, definitely, definitely. I want to do a variety of everything, really, because I just like the hard work you can put in anything, whether it's a comedy or action or drama.
GC: What is your dream movie project?
BB: Oh jeez. (laughs) I also write so there's so much that I have in my computer, saved away, locked up with a key. So eventually, when the time comes, just to get those out and work on those. It's a lot of drama and action. But I have to admit that comedy is really fun to do because you can do whatever and it might work, you know?
GC: Which leading female martial artists inspire you?
BB: I know this probably sounds really weird but I don't really know many female martial artists. I don't know many male martial artists either, besides growing up knowing my father was a martial artist. Obviously, he was a big factor in why my brothers and I continued doing martial arts, but I do have to say that my favorite that does inspire me, apart from my father, is Bruce Lee.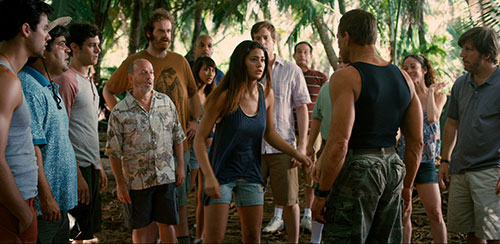 GC: You were hoping to qualify for the Winter Olympics in skating and almost made it. How do you feel about the upcoming Sochi Games?
BB: It's kind of sweet and sour because I have a few friends who actually qualified and are now in Sochi as we speak. I'm really excited for them, but I have a hard time watching the Olympics because my dream when I was young was to be an Olympian, and I had some minor setbacks. I mean, no excuses really because I don't like excuses, but I went through some difficult times and I guess I was mentally not strong enough to just continue going through with it. So I just continued to film anyway.
But I'm really excited to see how my friends are going to be doing, but it's going to be very tough to watch because every time I watch, I get chills. I get really down and depressed, but then … it's just very sweet and sour.
GC: Well, you're in movies. That's a lot of other people's dreams.
BB: Yeah, I can't complain.
GC: Fans of martial arts movies are just getting to know you. What do you want to tell them about yourself?
BB: Don't be too hard on me because I'm just starting out. (laughs) I know I have big shoes to fill, as well as my brothers. I hear a lot of people. I read on messages on Facebook. A lot of people are like, "Yeah, you know, you'll never be your father," which is true. But I can only do so much as an individual. Even if I'm not as good as him, I just know that when I'm doing it, I'm going to have fun. But I'm definitely going to concentrate more and focus more so I can have a better performance, and everything I'm doing from this point on, because previous things I've done, it's been like, "Yeah, sure, whatever, I'll just do it," you know?
Be nice.
Written by Gene Ching for KUNGFUMAGAZINE.COM
© COPYRIGHT KUNGFUMAGAZINE.COM, ALL RIGHTS RESERVED.
All other uses contact us at gene@kungfumagazine.com