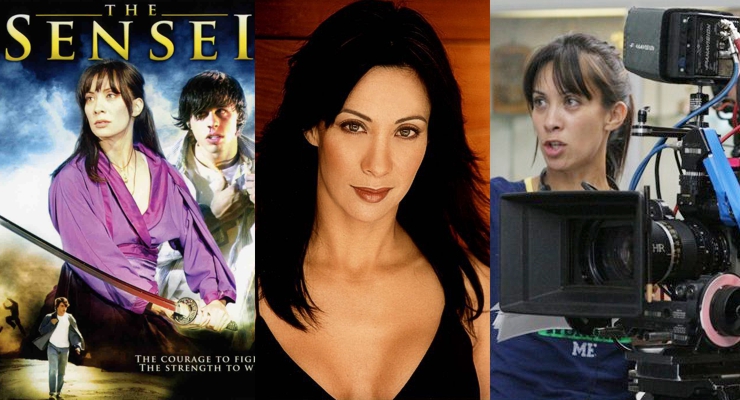 Diana Lee Inosanto is the daughter of legendary martial artist, Dan Inosanto and Sue Ann Reveal. She is also the goddaughter of the famous Bruce Lee, and received her middle name Lee in honor of Bruce, her father's close friend.
Diana was born in Torrance, California on May 29, 1966 and grew up in Carson, California. When Bruce Lee died in 1973, her family moved to Harbor City, California where her father decided to open his first martial arts school with Diana's second godfather, Richard Bustillo. At the Filipino Kali Academy, as the school was called, she was exposed to Jeet Kune Do, Filipino arts of Kali, Escrima, Panantukan, Silat, Western boxing, kick boxing and Wing Chun. Her exposure as a youngster to the martial arts would shape her future as an adult.
While her father influenced her martial arts education, her father's sister, actress, Lilia Inosanto influenced Diana Inosanto's education in the theater arts. Inosanto was encouraged by her aunt to study with legendary Broadway acting coach and author, Michael Shurtleff . Later, Diana would go on to work with East West Players & Lodestone Theater Ensemble, continuing to grow as an actress and as a fight choreographer and trainer for other actors, utilizing her expertise in martial arts.
During this time, Diana Lee Inosanto struggled as a young, single mother of an Autistic son. She would meet and marry one of her father's students, Ron Balicki, who also works in the industry as a stunt coordinator and independent producer.
Diana Inosanto harnessed her martial arts talent, and found success working as a stunt actress on popular film and television shows including FACE OFF, WALKER TEXAS RANGER and BUFFY the VAMPIRE SLAYER, doubling for actresses Margaret Cho and Sarah Michelle Gellar. Eventually she began putting here energies into the creation of her own film projects.
Diana made the most of her time on set as a stuntwoman, working to learn everything she about the directing process by watching and absorbing the techniques, strategies, and philosophies exhibited by A-list directors, like Ang Lee, John Woo, Barry Sonnenfeld, Chris Columbus and Clint Eastwood and the others she was privileged to be on set with.
By the end of 2010, she emerged as a producer, director and writer on The Sensei, and she won awards and accolades at film festivals like LA Femme International Film Fest, Hoboken International Film Festival, Philadelphia Asian American Film Fest, San Francisco's Frameline, Germany's Verzaubert Film Festival and New York's Newfest to name a few.
So powerful was her message on The Sensei, that the Asian American Justice Center presented Ms. Inosanto with the 2011 American Courage Award, in Washington, D.C. where members of Congress and humanitarian activist were present, to honor her bravery and dedication to the cause of civil rights and use of incredible creative aptitude to deliver the message of advancing social justice.
Diana Lee Inosanto and her husband, Ron Balicki, co-produced the action thriller Sinners and Saints (2010) starring Johnny Strong (Black Hawk Down), Oscar Nominee, Tom Berenger, (Inception), Sean Patrick Flanery (Boondock Saints), Method Man (The Wire) and Kim Coates (Black Hawk Down).
In the 2015 film, SPY, Diana Lee Inosanto took over the training of star Melissa McCarthy when Diana's husband was already committed to another gig. Diana was perfectly suited to the job. Melissa's fight scenes in the movie were superb, due to Diana's use of Jeet Kune Do concepts to train Melissa, who had no martial arts training and little time to train due to her busy schedule.
Diana has been accepted into the Alliance of Women Directors, sharing membership with other notable women directors like Catherine Hardwicke (Twilight) and Kimberely Peirce (Boys Don"t Cry).
Diana Lee Inosanto is currently working on several projects in various stages of development.