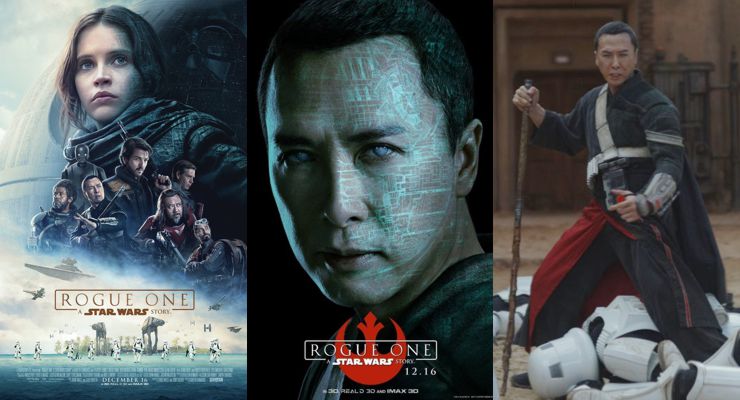 Donnie Yen stars in Rogue One: A Star Wars Story (2016), playing Chirrut Îmwe. Rogue One is the first installment in the stand alone Star Wars Anthology series. This film is set before the events of Star Wars: Episode IV – A New Hope (1977) and five years after Star Wars Rebels (2014). Rogue One is the first theatrical, live action Star Wars film to not be scored by John Williams, but instead by Michael Giacchino.
Donnie Yen revealed in an answer to a question from a little girl named Miriam, that he designed a unique martial arts style for his character in Rogue One: A Star Wars Story (2016). According to EpicStream Donnie Yen states;
"I've done a lot of martial arts, Miriam. I was nine years old when I started martial arts, and I studied many different styles of martial arts. Every movie, I would create a unique martial arts for each movie. For example, in Rogue One, my character Chirrut, I designed a bit of martial arts specifically for Star Wars."
At the same time Donnie complained about the contact lenses his character had to wear.
"It was not comfortable! I had to take them off every two hours and rest in between for twenty minutes. With the contact lenses, it was very blurry, I couldn't see clearly, so it was very distracting."
Donnie Yen's character, Chirrut Îmwe, is not a Jedi, but a blind warrior with incredible fighting skills and it is his belief in the Force that seems to drive the warriors on their dangerous mission.
The action sci-fi film is directed by Gareth Edwards and written by Chris Weitz and Tony Gilroy, from a story by John Knoll and Gary Whitta. The film stars Felicity Jones, Diego Luna, Ben Mendelsohn, Donnie Yen, Mads Mikkelsen, Alan Tudyk, Wen Jiang and Forest Whitaker.
The film is produced by Lucasfilm and distributed by Walt Disney Studios Motion Pictures. Principal photography began during early August 2015 at Elstree Studios near London. Rogue One is scheduled to be released on December 16, 2016 in the United States.
Rogue One: A Star Wars Story (2016) takes place during a time of great conflict, when a group of unlikely heroes must band together on a mission to steal the plans to the Death Star, the Empire's ultimate weapon of destruction. This key event in the Star Wars timeline brings together ordinary people who choose to do extraordinary things, and in doing so, become part of something greater than themselves.