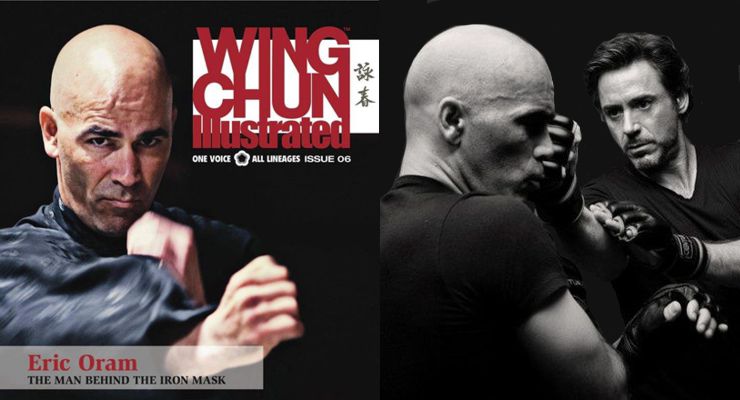 American Wing Chun Kung Fu Master, Eric Oram, has been a fight choreographer and stuntman for major Hollywood movies for Warner Bros. Pictures and Marvel Studios. He was the fight choreographer on Sherlock Holmes: A Game of Shadows (2011), a fight consultant on Iron Man 2 (2010) and fight choreographer on Iron Man 3 (2013) and Fight consultant Sherlock Holmes (2009).
It was Sifu Eric Oram who introduced a new way of filming fight scenes beginning with the film Sherlock Holmes: A Game of Shadows. In the past, film fight scenes required the stunt performers and actors to use very large movements, however, Eric had the actors in the scenes he choreographed using real wing chun techniques thrown at full speed and requiring Robert Downey Jr. to actually block the the strikes. When, in the final movie, the the scenes were slowed down to 500 frames per second, the scenes were wonderfully realistic.
He also was the fight coordinator for the combat scenes between Iron Man and Captain America in the movie Captain America: Civil War. These scenes were required to show the philosophical as well as the physical conflict between Iron Man and Captain America. Oram's fighting strategy for Iron Man was the use of "minimum force" or the use of the fewest techniques necessary to win the fight. He wanted Ironman to remain calm and in control, showing no intent to kill, and Oram's choreography did just that. Captain America: Civil War was nominated for the Screen Actors Guild Award for Outstanding Performance by a Stunt Ensemble in a Motion Picture.
In 2003 Oram began training Robert Downey Jr. in Kung Fu as a way to help Downey beat his drug addictions. It was also Sifu Eric Oram who wrote a moving letter to the judge and to California Governor Jerry Brown supporting Downey's pardon. Eric Oram also trained other well known actors in Wing Chun including Christian Bale for his role in Batman Begins, Jake Gyllenhaal, and he worked with his student Robert Downey Jr. in Iron Man and Sherlock Holmes and as continued as Downey's personal on-set consultant in over a dozen other movies.
Oram was featured in Warner Bros. Home Entertainment video from the Stunt Schooled series. The series used a sequence from the Sherlock film choreographed by Oram having a fan learn the Wing Chun techniques from the scene to take down the assailants.
In 2014 Eric Oram worked with a team of 17 Motion Capture Actors and Stunt Performers on the award winning video game Call of Duty: Advanced Warfare.
Eric Oram was born and raised in Las Vegas, Nevada. He began his martial arts training at the of age 11 enrolling in Ed Parker's Kempo Karate. After three years of study, in 1980, Eric began training in Traditional Wing Chun Kung Fu as a personal student of Grandmaster William Cheung, a disciple of Ip Man. At age 16, he began teaching as an assistant for Grandmaster Cheung in New York City.
During the following two years Eric Oram traveled to places like Los Angeles, New York, Milwaukee, Reno, and Bermuda leading Wing Chun seminars. At 18, after four years of study, he received his Level 10 rank from Grandmaster Cheung becoming the youngest certified instructor of Traditional Wing Chun in the world. While he was studying for his Bachelor of the Arts degree in theater at the University of Nevada Las Vegas, Eric Oram continued teaching small groups of students in Las Vegas and continued leading seminar tours when time allowed.
In 1993 he relocated to Los Angeles and, the following year, he created the Los Angeles Traditional Wing Chun Kung Fu Academy. At this time his school was the only certified Traditional Wing Chun school west of the Rocky mountains.
Sifu Oram has taught Wing Chun to police officers, accomplished martial artists, public officials, Hollywood celebrities, and members of the F.B.I.'s prestigious Hostage Rescue Team.
Eric Oram has written numerous wing chun related articles and he has been featured in Wing Chun Illustrated, American Health and Fitness, Black Belt Magazine, Inside Kung Fu Magazine, the Los Angeles Times, Men's Journal, Sports Illustrated, and Vanity Fair.