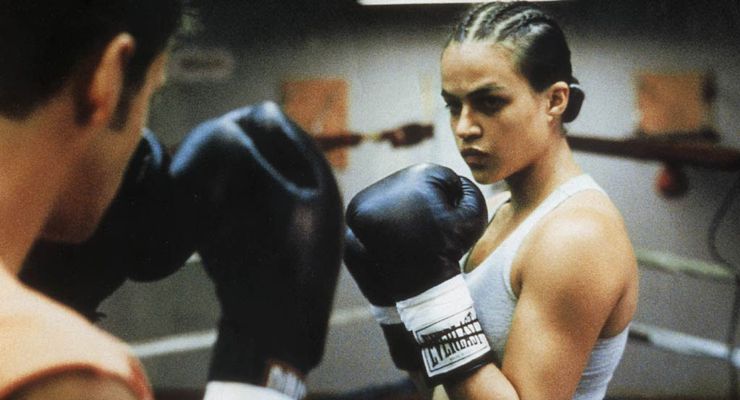 The American sports drama Girlfight (2000) is a boxing film written and directed by Karyn Kusama. Girlfight (2000) was Karyn Kusama directorial debut. It was also the acting debut for Michelle Rodriguez who stars as Diana Guzman in the film.
Girlfight (2000) follows Diana Guzman, a troubled teenager from Brooklyn who is continually getting into fights at school and elsewhere. She decides to channel her aggression by training to become a boxer. Diana enters the male dominated sport of boxing without her father's knowledge or any real support from prospective trainers and competitors, but she doesn't give up and becomes impressively successful, blazing new trails for female boxers.
After learning to box, Karyn Kusama wrote the screenplay for Girlfight (2000). She wanted to make a boxing film with a female protagonist. Kusama struggled to find funding for the film's $1 million U.S. budget, but the production was eventually funded by John Sayles, Maggie Renzi and the Independent Film Channel. Michelle Rodriguez was cast in the lead role, despite the fact that she had never acted before. Michelle trained as a boxer for four months to prepare for the role and then filming began in New York and New Jersey.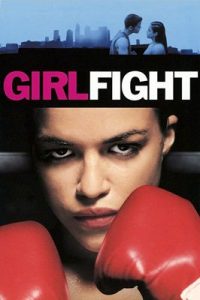 Girlfight (2000) premiered on January 22, 2000 at the Sundance Film Festival, where it won the Grand Jury Prize  and the Directing Award in Dramatic Competition. It was released in theaters on September 29, 2000 and grossed $1.7 million at the box office. The film was well received by critics, who offered particular praise to Michelle Rodriguez for her performance and Karyn Kusama for her direction. Both Kusama and Rodriguez received numerous accolades, including two National Board of Review Awards, two Independent Spirit Award nominations, and two Gotham Awards.
Distribution rights to the film were purchased by Screen Gems.
Girlfight (2000) was one of the first boxing films to portray women in the sport. Film studies academic Katharina Lindner argued that Girlfight (2000) was responsible for the "influx of female protagonists into the [boxing film] genre" of the 2000s, specifically the 2004 films Million Dollar Baby and About a Girl or Die Boxerin.
The film was responsible for launching the film careers of both Michelle Rodriguez and Karyn Kusama's. Rodriguez went on to star in numerous major studio films including the The Fast and the Furious franchise, Avatar and Resident: Evil. Karyn Kusama went on toe  direct Æon Flux (2005) and Jennifer's Body (2009) and numerous television series episodes.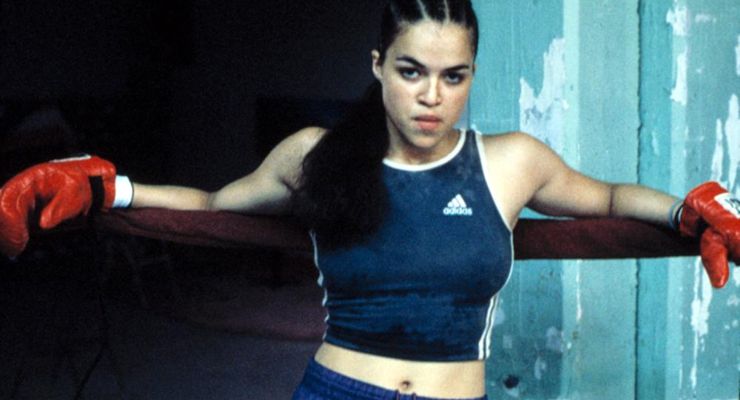 Plot
Girlfight (2000) Diana Guzman is a Brooklyn teenager whose hot temper gets her into trouble at school as she repeatedly starts fights with other students. Her frustration stems from her unhappy home life; she lives in a public housing estate with her brother Tiny and their single father, Sandro. Sandro pays for Tiny's boxing training in hopes of his becoming a professional boxer, although Tiny would prefer to be an artist.
After visiting Tiny's gym and intervening in a spar to defend him, Diana asks the trainers to let her box, too. She is told she can train there, but not compete in actual fights. When she learns that she cannot afford coaching from Tiny's trainer, Hector Soto, she asks her father for an allowance but he tells her to get a job. She resorts to stealing his money instead and returns to the gym, where Hector begins to teach her the basics of boxing.
Diana's first spar is with Adrian Sturges, whom she later meets again when Hector takes her to a professional fight. Adrian invites Diana to dinner after the fight and kisses her after walking her home. One night after a spar which gave Diana a black eye, Sandro sees Diana and Adrian together and confronts her, assuming that she is in an abusive relationship. She storms out of the apartment and spends the night with Adrian. When he asks about her parents, she reveals that her mother committed suicide several years ago. When Diana returns to her apartment, Tiny offers to give up boxing so that she can use the coaching money he gets from their father.
Diana later goes to Hector's birthday party, but leaves when she sees Adrian getting friendly with his ex-girlfriend. When Diana and Adrian spar at their next session in the gym, he is reluctant to hit her, and she leaves before he can talk to her. Diana's first amateur match is scheduled against another girl, but when her opponent pulls out she ends up fighting a man, Ray Cortez. Sandro arrives in the middle of the fight to see the match end in Ray's disqualification for illegal shoving. When Diana arrives home, Sandro berates her for looking like a loser. She retaliates by beating him to the floor and accuses him of abusing her mother to the point of suicide.
After weeks of rigorous training, Diana wins another amateur fight, this time against a girl, Ricki Stiles. Although Diana has accepted Adrian's apology, tensions rise between them again when they learn that they both have advanced to the finals in their division to fight each other. Adrian refuses to fight a girl and Diana struggles to convince him to view her as a legitimate opponent. He turns up for the fight on the day, however, and after an even match, Diana wins with a unanimous decision by the judges. After the fight, Adrian fears that he has lost Diana's respect, but she tells him she respects him even more for fighting her, and they reconcile.