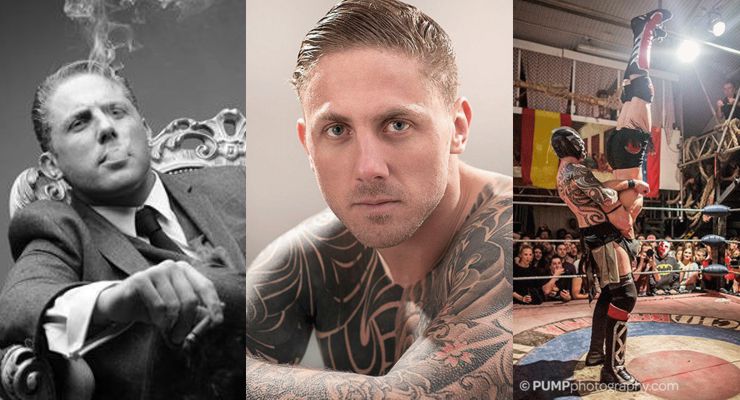 Greg Burridge grew up in East London working with his family at London's famous flower market on Columbia Road. As a boy, Greg decided he wanted to become a professional wrestler. The money he earned working at the flower market paid for his wrestling training.
Greg began training in 2001 and his first pro match took place in 2002. Since then Greg has traveled the world wrestling in front of live audiences in the thousands. Greg's skills increased and so did his popularity. He had natural ability and extraordinary charisma and this made him a favorite with the audience. Greg quickly became regarded as one of the top professional wrestlers in Europe and arguably the top wrestler in his native United Kingdom.
Greg Burridge also proved to be an excellent professional wrestling instructor and ran successful schools in the UK and in Ireland.  Many of his students became top level international wrestlers. He is currently head trainer and co-founder of the London school of Lucha Libre.
While Greg was on a wrestling tour of Thailand he was introduced to the entertainment industry and began working doing stunt work in movies. Inspired by the movie Ong Bak. Greg realized that stunt work was a natural progression of his wrestling, and began using his art as a tool.
Greg Burridge has worked as a stunt based actor. has in televisions programs and movies including Harry Potter and the Deathly Hallows, Ten Dead Men and The Royal Bodyguard.
Desiring to become even more professional, Greg began studying acting at the The Actors Centre in London. With his unique look, exceptional natural ability, and natural presence, it didn't take Greg long gain a strong reputation. He landed a role in the original run of the hit Tony Award winning play Jerusalem at the Royal Court Theatre, working with such talents as Mark Rylance.
Greg landed lead roles in feature movies including Welcome to Essex (2014), a movie that set a record for the most live non-CGI zombies in a movie, and The Recluse, where he played the role of Horse, a modern day vampire.
In an effort to offer more, Greg developed a hybrid fighting technique for films by fusing together wrestling and acting calling it "grap fu". His technique landed him jobs as fight director and actor in the movies Figments, Trails of Blood, the Accelerator. It also helped him began working in the world of advertising doing jobs for Vodafone on their German television marketing campaign and for Phileas Fogg Crisps.
Greg Burridge has also tried his hand as a producer,  fight choreographer and director creating his own "grap fu" action film.