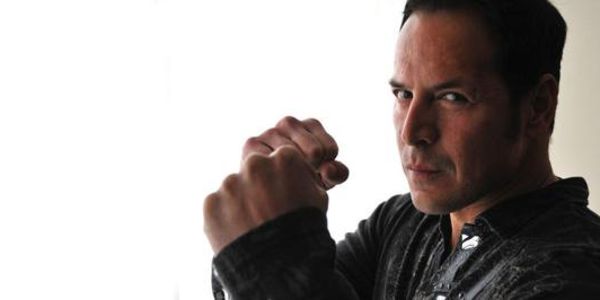 With a huge international following, Hector Echavarria comes to the American film arena destined to become the first breakthrough Latino action star. A legendary Martial Arts Champion who is idolized by millions in Mexico and Central and South America, Hector Echavarria brings to the screen a background of film experience, martial arts expertise, and a marketing machine that defies comparison.
In his native Argentina, Hector Echavarria has acquired mythic status. As a sickly child who suffered from severe asthma, Echavarria was encouraged by his parents to use martial arts to overcome his handicap.  He began his training at the age of 4 by studying Tai Chi Chuan and Chinese boxing with a Shaolin Monk, Grand Master Tung Kuo Tsao. By the age of 6 he had been trained in Judo and Jujitsu under Grand Master Mayamoto of Kodokan. By the age of 14, now a superb athlete, Hector had learned Karate, Tae Kwon Do and Kung Fu, and he became the youngest kickboxer to ever enter the ring professionally.
Echavarria's martial arts achievements are legion. He was inducted into the United States Martial Arts Hall of Fame in 2000. He was also named the "Full Contact Fighter of the Year" in 2000 and is the current Vale-Tudo Kickboxing Champion of the World. He has won World Champion status in both the United States Karate Association and the World Kung-Fu Association and remains undefeated in eleven world kickboxing bouts. He is a Kung-Fu Master and has reached the following levels: 7th dan Karate Shury-ryu, 7th dan Kenpo Karate, 5th dan Tae Kwon Do, 2nd dan Jujitsu, 2nd dan Judo.
As an actor, Hector's first appearance was on the hit TV show "Miami Vice". This tradition of success and discipline has also been applied to Hector's film career. His first three films (Exterminator I, II and III), all shot in Argentina, still hold the record for being the highest grossing winter release movies in South America.  He also starred in a hit weekly television series called Brigada which ran for five consecutive seasons from 1992-1997 in South America, Spain, Italy, Turkey, the Middle East and Mexico. Brigada grossed 2.5 million dollars in its first 21 days. Capitalizing on his popularity, a line of Echavarria merchandise was created, including an Echavarria action figure, the first one million of which were sold out in just two weeks.  Other Echavarria merchandise included posters, collectors' cards, videos – even a comic strip based upon his martial arts skills. The comic book sold an average of 250,000 copies per week.
Hector's ventures have included two movies, Final Assault and Extreme Force. Extreme Force had an eight-week long domestic theatrical release in January of 2001. Final Assault was marketed internationally.
In 1997 Hector moved back to the States where he began producing and directing. Hector produced the horror flick "Lake Dead"; with a theatrical distribution through After Dark Films. Hector produced and starred in "Confessions of a Pit Fighter"; distributed by Lionsgate. In 2008, Hector wrote, directed and starred as Diego Carter in the film Never Surrender, also distributed by Lionsgate. Hector has another two films completed as director and star to be released in 2010: "Duel of Legends" and "Death Call".
In April 2009, Hector filmed a feature called "Death Warrior"  in Toronto, co-starring Nick Mancuso of Under Siege and Rapid Fire. In "Death Warrior" Hector fights his way through some of the biggest names in Mixed Martial Arts. Hector, who said "Everything that I have become I owe to the martial arts", has also helped start the film career of some of his Mixed Martial Arts students and friends; including Georges St. Pierre, BJ Penn, Rashad Evans, Anderson Silva, Lyoto Machida, and others. "Death Warrior" was produced by Sean Buckley of Buck Productions and directed by Bill Corcoran and was distributed by Grindstone Entertainment Group and Lions Gate Entertainment towards the end of 2009.
Some of the projects Hector has in production, include: "Duran, King of the Cage", "Devil's Dogs" "Dragon Island", "Kill the Dragon" and others with distribution by Grindstone Entertainment and Lionsgate.
In Sept. 2009, Hector started production on "Unrivaled" in Toronto. He is credited as executive producer, writer as well as acting as "Ringo Duran," a "down-on-his-luck cage fighter" along with Rashad Evans and Keith Jardine, Nate Marquardt and Forrest Griffin.