The Jade Trader (2014) wins Outstanding Cast Performance – Short at the Action On Film International Film Festival 10!!!
On Thursday, August 28, at 8 p.m. The Short Film, The Jade Trader (2014),  by Gerald D. Pallay screened at the Krikorian Theater, in Monrovia, CA. The amazing cast featuring Hollywood Actors carrying on Legacies from Karate Kid to Kung Fu and Kill Bill.
The Road Less Traveled, Inc. is proud to announce that their Short Film The Jade Trader (2014) has won at the world renowned Action On Film International Film Festival 10. The festival event took place the week of August 22-30, 2014 where the Short won in the category of "Outstanding Cast Performance — Short."
The screening took place at the AOF Festival, at the Krikorian Theater, 410 South Myrtle Avenue, Monrovia, California 91016, on Thursday August 28th at 8 pm in a block of 10 other action short films.
STORYLINE: A jade trader befriends the heiress of an extensive art collection in a Vietnamese enclave in Shanghai, discovering their rich shared past as they struggle for justice. Bi Gong Ri arrives early one morning and is an immediate witness to a murder by a Triad leader looking to corner the world market in antique jades. The victim, Shin Shaw, was the antiquities expert as well as lifelong counsel and father figure for Liu Ling. Bi shows no hesitation in trying to catch the killer Hu Deng, underling for the Triad boss Chiang Cho. However, he must first fight his way past 3 different layers of his defenders. That changes the dynamic and the future of the city, the jade trade and the criminal element as well. But it especially changes the lives of Bi Gong Ri and Liu Ling. After disarming his lethal crew, Bi instead opts to offer comfort to the mortally wounded Shin Shaw. This leads to a friendship and partnership as he tries to expose the Triad boss Chiang Cho, and, by so doing, set things right. He enlists the help of the US Ambassador's wife Ciara and her sifu Kally Kelly. In time Liu chooses to liquidate her collection, for the safety of all as she yearns for justice. That is also the goal of her new friend, and together they work to resolve this dark cloud overhanging their lives. In so doing, as well, they learn of each other's remote but shared history adding even more strength to their efforts.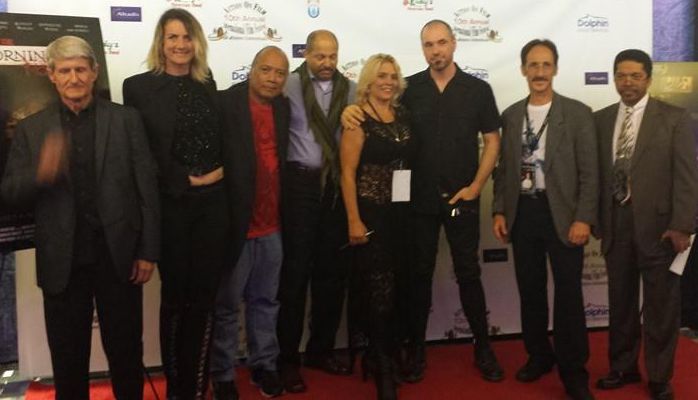 ABOUT THE CAST and CREW:
The cast has an amazing history with Action Film and Martial Arts. Below lists the seasoned actors whose life's work have crossed paths again for this Short, waiting to be turned into a full length movie:
This project marks the debut in a lead role for Free Carradine (aka Tom Carradine), son of legendary screen icons David Carradine and Barbara Hershey. Free has taken his black belt martial arts skills and applied them in this martial arts action and drama film as the Jade Trader named Bi Gong Ri. Free is David Carradine's only son and this is a very exciting moment in the family history which goes back to Grandfather John Carradine and continues with his Uncles Keith and Robert Carradine.
Continuing the legacy of their Father, Uncles and Grandfather is Free's (Tom) oldest sister Calista Carradine who has a supporting role in this film. She is very proud to be co-producing the project which is a first for her. Her movie debut was made with her father David in Kung Fu: The Movie and she went on to be in Kung Fu: The Legend Continues, Project Eliminator, Total Force, Dear Santa and Mansion of Blood with Gary Busey and Robert Picardo, which also features her singing. She is currently in the band Snatch the Pebble which Blues Rockin' Country style.
The film features Peipei Yuan in the female lead role as Liu Ling. Peipei is best known for her Stunt Work in 3 Pirates of the Caribbean Movies: Curse of the Black Pearl, Dead Man's Chest and At World's End as well as the Matrix. She has acted in many TV shows such as Nip Tuck and 1000 Ways to Die but this is her first Lead Role.
Another legacy continuing is that of William Christopher Ford and John Kreng who play supporting roles as the leaders of the Triad trying to corner the market in antique Jades. Both actors are black belts and honored in the Martial Arts Museum Hall of Honors and well known throughout the Martial Arts community. Ford is known for having played strong but silent Cobra Kai bad boy, "Dennis", in "The Karate Kid Part III" and "Karma" .
John Kreng, having had the honor of Coordinating Stunts for David Carradine in Night of The Templar, was honored to film fight with David's son Free (Tom), in this film. John Kreng is an actor who was in Hook, The Master, and Paramount Pictures "Scouts vs Zombies, in theaters 2015. He is also a busy Stuntman, Stunt Coordinator, and author of the book The Art of Non-Verbal Dialogue. He also assisted with the Sound and Editing during the fight scenes in The Jade Trader.
Kelvin Han Yee has a key role as the acquisitions expert for Liu Ling. He is a well known actor, acting in movies such as Milk, Sweet November and Patch Adams. His TV Roles include Criminal Minds and reoccurring characters on Hawaii Five 0, Crash, Prison Break and the Young and the Restless.
Daniel Mah, a proven martial artist, enjoys his debut as an action actor playing the Tea House Waiter.
D.M. Blue (aka Dennis Blue) plays Kally Kelly the owner of a kwoon in his newly adopted home country.
Martial artists and up and coming Action Actions/Stunt Performers Du Au, Brian Le, Bryan Cartago, Arthur Lazaro as well as seasoned stunt performer and professional wrestler "Van Acid", Van Ayasit also have an important presence in this movie.
Rob Moses, with additional help from D.M. Blue, choreographed and Stunt Coordinated the numerous fight sequences in this fast-paced film. Rob continues the legacy as he was Fight Choreographer for Kung Fu: The Movie as well as Kill Bill Vol 1 and 2. He also acted in Kung Fu: The Legend continues as Master Khan.
The Director of Photography and Editor was Adam Sherer who is best known for Cinematographer on Life Point Chronicles and Director of Photography in the TV Show Breaking Point.
Gerald D. Pallay wrote, produced and directed The Jade Trader (2014). He is best known for Writing The Puzzle in the Air which Starred David Carradine.
Additional co-production and 2nd Unit Direction was done by Melissa Tracy. She is best known for acting, stunts, an as an accomplished Sword Trainer/Martial Artist and Director/Producer. Directing movies such as Vampie and a TV Show called Hook Up and Give Back. She also acted in A Place Called Hollywood, Raven, Blood Sucker Punch and Zombie Fight. Melissa and John Kreng also both did Stunts on Katie Perry's latest Video with John Mayer called "Who Do You Love?" She also was 2nd Unit Director/Stunt Coordinator on Music Video "Al Fine" Produced by Andrew Lane.
Watch The Jade Trader (2014) on YouTube