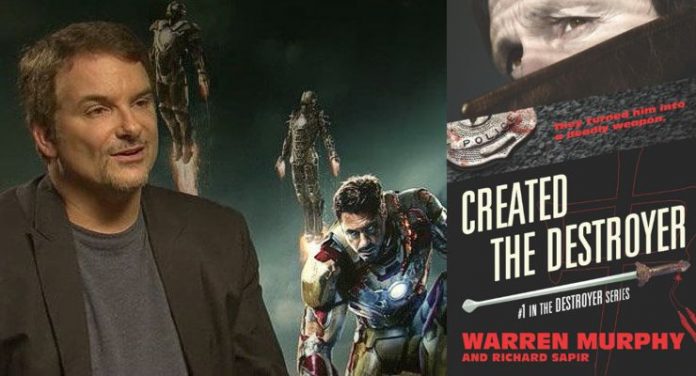 Sony Pictures Entertainment announced today the Ironman 3 Director, Shane Black, will direct the film adaptation of the popular adventure book series The Destroyer by Richard Sapir and Warren Murphy. Writers for the screenplay are Jim Uhls (Fight Club) and James Mullaney. James Mullaney was the co-author and became the sole writer of The Destroyer until the series' end in 2008. Producers are Charles Roven, Steve Chasman, and Andy Horwitz. Michael De Luca and Lauren Abrahams will oversee the project for Sony Pictures Entertainment.
The Destroyer is based on the series of paperback novels in which Newark cop Remo Williams is framed, sentenced to death, then resurrected following a botched execution.
The reason? To serve as enforcement arm for CURE, a top-secret, extra-Constitutional arm of the U.S. government. Along with a seemingly ageless – and often hilarious – Asian assassin known only as Chiun, Williams sets out to "clean up" and take out those who oppose America's interests. The surprisingly-heartfelt stories combine edgy old-school suspense with Eastern mysticism to produce unique, rapid-fire capers full of slick banter, social satire, and sudden violence.
Producer Charles Roven of Atlas Entertainment had to say this about Shane and the narrative created for The Destroyer.
Shane has been a fan of the original Destroyer book series since its inception and he has an incredible vision for this film. Atlas couldn't be more fortunate to be working with this talented director on this material. The narrative Jim and James have created is incredibly rich and while it's a story rooted in adventure, it is also very much character driven.
Michael De Luca, president of Production for Columbia Pictures, had this to say about the choice of Shane Black to direct The Destroyer.
The Destroyer is a two-fisted classic and deserves no less than the genius of Shane Black. We couldn't be more excited about his vision for this character.
Shane Black will also be co-writing and directing Doc Savage, based on the hero of pulp novels, films, and comic books, for Columbia Pictures. Shane Black most recently wrote and directed Iron Man 3, which became the fifth highest grossing film of all time worldwide. He began his career in screenwriting, making his mark with Lethal Weapon and collaborating on its sequel. Black's directorial debut came in 2005 with his critically acclaimed Kiss Kiss, Bang Bang starring Robert Downey Jr. and Val Kilmer.
Jim Uhls is best known for having written the screenplay for the classic film Fight Club directed by David Fincher. Subsequently he has written a number of films and television shows, having worked with the likes of Steven Spielberg, Doug Liman, and Shane Black, to name a few. Jim began his career as an original member of The Actors Gang when it was founded at UCLA.
James Mullaney is a Shamus Award-nominated novelist who has written 37 books, as well as comics and short stories. He is author of the Red Menace series of spy thrillers and the comic-fantasy-noir Crag Banyon Mysteries detective series.
Trailer for the 1985 Movie Remo Williams: The Adventure Begins (1985)
Trailer for the 1985 cult action movie Remo Williams: The Adventure Begins starring tough guy Fred Ward. Just as the title suggests, this film was meant to kick off a franchise but unfortunately Remo didn't bring in the bucks at the box office. Nevertheless, Remo, based a character straight out of The Destroyer novels, has become somewhat of a cult film. Remo Williams deserves its reputation as an under-appreciated 1980s action gem. For more retro movie trailers, be sure to subscribe to Pick of the Flicks.