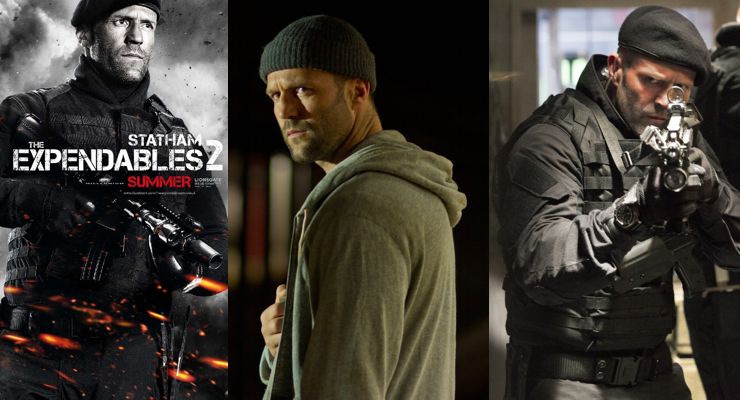 Jason Statham is an martial artist, English actor and was a champion diver. He was born in Shirebrook, Derbyshire on July 26, 1967. Jason was born into a family of "entertainers" and his father introduced him to "street theater"  the Brits fancy way of talking about "street hustling". He sold knock-off products to unsuspecting tourists. His mother, Eileen (Yates) was actually a dancer and his father, Barry Statham was a lounge singer after his day job as a street merchant. His "street theater" training gave Jason Statham his break into the film industry. According to Jason, "It's all about the show you put on. The people need to be entertained to buy".
Jason Statham excelled in sports and in other diverse areas of life. In 1992, as a diver on the British National Diving Team, he finished 12th in the World Championships. He has been a fashion model, a black market salesman, selling fake perfume and jewelry on street corners, and is a famous action actor.
His debut role as Bacon in Lock, Stock and Two Smoking Barrels (1998) came through French Connection, the agency for which he modeled. French Connection became a major investor in the film and the modeling agency and introduced Jason to Guy Ritchie Mr. Richie invited Jason to audition for a part in the film by challenging him to impersonate an illegal street vendor and convince him to purchase fake jewelery, which Jason already excelled at. Of course, Jason was convincing, and he got the part. Lock, Stock and Two Smoking Barrels (1998) was a success and so Jason teamed up with Guy Ritchie once again for Snatch. (2000), which co-stared Brad Pitt, Dennis Farina and Benicio Del Toro. After Snatch. (2000) he starred in Turn It Up (2000) with US music star Ja Rule, and this was followed by a supporting role in the Sci-Fi film Ghosts of Mars (2001), Jet Li's The One (2001) and a second screen partnership with Vinnie Jones in Mean Machine (2001) under Guy Ritchie's and Matthew Vaughn's SKA Films.
In 2002 Jason was cast as the lead role of Frank Martin in the French action thriller, The Transporter, directed by  Louis Leterrier and martial artist and action director Corey Yuen. The Transporter trilogy consists of The Transporter (2002) The Transporter 2 (2005) and The Transporter 3 (2008). Jason was also in the summer 2003 blockbuster remake of the heist film The Italian Job (1969), also called The Italian Job (2003), playing Handsome Rob.
Jason went on to make the the black comedy and action film Crank (2006), the action film War (2007), co-starring with Jet Li, the science fiction action thriller Death Race (2008), the crime film The Bank Job (2008). He also starred in the action-comedy Expendables film series from 2010 through 2014. In 2011 he made The Mechanic (2011) and then Mechanic: Resurrection (2016). He was also cast in Fast and Furious 6 (2013), Furious 7 (2015), The Fate of the Furious (2017) and Hobbs and Shaw (2019) which is a spinoff of the The Fate of the Furious (2017) focusing on Johnson's US Diplomatic Security Agent Luke Hobbs forming an unlikely alliance with Statham's Deckard Shaw.
Jason is not just a actor. He likes to perform his own stunts and stage combat as well, and he is well typecast as the antihero. He also does voice-over and did the voice-over as Sgt. Waters in the video game Call of Duty.
Jason Statham is well trained in mixed martial arts and is an expert in kickboxing and jujitsu. He has also studied wing chun. His favorite sport is cage fighting and he has considered fighting in the UFC. He has stated "That is by far my favorite sport, the only thing that holds my attention. I go to all the matches. I respect those guys above all other athletes. They are the ultimate."