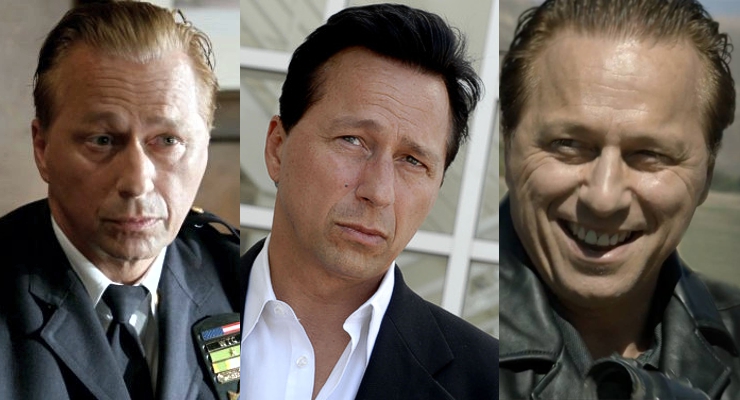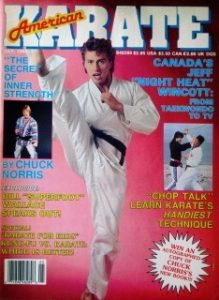 Actor, Producer and Director, Jeff Wincott, was born in Toronto, Canada on May 8, 1956. He studied theatre at Ryerson University and he began his career in entertainment as a stage actor. He played Mark Smeaton on stage in Anne Of A Thousand Days, and he he played Bogie in Play It Again Sam, and his impersonation was perfect. S.E. Kure from the Bloor West Villager, a Toronto newspaper, wrote
A positive step by director Stephen Bragg was in the casting of Bogie. Jeff Wincott never failed a delighted audience with his impersonation. He had every gesture down pat; the slurred voice well-mimicked and the facial expressions twinning that of the famous actor. The dialogue however did not allow Wincott much interplay with the other actors. Isolated as a Humphrey Bogart impersonator, he was superb.
Jeff  did summerstock at The Kawartha Summer Theatre  and toured with an acting company as Tybalt in Romeo and Juliet. Next he played Wolf in the Toronto Premier of Martin Sherman's play Bent.
His desire to consistently improve his acting skills led him to move to New York to study with Stella Adler, Michael Kahn, and Eli Rill.
Jeff Wincott moved into television with his first TV role on the sitcom King of Kensington (1978-1979) with Al Waxman playing the rebel Jeff. His first feature film lines were as the taxi driver in Happy Birthday Gemini (1980) with Madeline Kahn. Director Paul Lynch cast him in the horror film classic Prom Night (1980) as the jock, Drew, with Jamie Lee Curtis and Leslie Nielsen. He played Nicolas Cage's sculling opponent Riley, in the film The Boy in Blue (1986) even though he had never sculled before. He trained for only three days before filming began.
Jeff Wincott's big break came when he won the part of the Italian, hot-headed rookie, Detective Frank Giambone, in the TV series Night Heat (1984-1989) with Scott Hylands, Alan Royal and producer Sonny Grosso, whose life was portrayed in The French Connection. He worked with some big named guest stars on Night Heat including Danny Aiello, Héctor Elizondo, David Carradine, Phyllis Diller among others. Night Heat was nominated 22 times and Jeff received a nomination for a Primetime Gemini Award for Outstanding Lead Actor in a Drama Series. Night Heat won the Gemini Award seven times including Best Dramatic Series in 1986 and 1987. In 1992 Jeff guest starred with Andy Griffith in the two hour season premiere of the TV series Matlock as Spencer Hamilton, who investigates the death of his brother.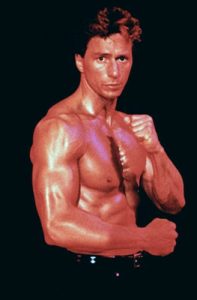 Jeff auditioned for the film Martial Law 2 in 1994. Producer Pierre David was looking for a fighter and Wincott, a 5th degree Black Belt in Karate and a Black Belt in Taekwondo who had won both the Ontario and North American Open Championships, was asked if he was a good fighter. Wincott's response, "I can stand you, and you, and you up and knock all three of you down". He was given the role, and Wincott received rave reviews for his performance in the film. Jeff was already known for his ability to act, and now he had proven his martial arts skills. Wincott won starring roles as the lead protagonist in martial arts and action films Deadly Bet (1992) and Mission of Justice (1992) with martial artists Matthias Hues and Karen Sheperd. Wincott had a fight scene in Mission of Justice, that was referred to as "the gauntlet". In this scene he fought 40 guys. Jeff recalls, "They wanted me to do cali-stick fighting and I told them I had never been trained with sticks. They spent 45 minutes teaching me for that big scene". For his role as DEA Agent Kevin White in the film Martial Outlaw (1993), Jeff began three months of grueling training for the role with twice a day in the gym, giving up sugar, dairy products, fruit and juices and bread. He got down to 8% body fat. Next Wincott starred in Open Fire in 1994. He then portrayed the cold-blooded killer, and hit-man for hire, Harlin Garrett, in the film The Killing Machine (1994) and Liz Braun from the Toronto Sun wrote, "Jeff Wincott manages to rise above the material."
Mission Of Justice Trailer With Jeff Wincott and Karen Sheperd
He next starred in the video No Exit which came out in 1995. For his role in Street Law (1995), he spent 18 hours the night before filming getting hair extensions for his character John Ryan, the pro-bono attorney who rides a Harley Davidson motorcycle. Then Wincott starred as Billy Castle in the thriller The Donor (1995) whose kidney is removed without his consent and then sold on the black market. In the action film Last Man Standing (1995), Jeff played a detective who finds himself caught in a dangerous position between an organized crime gang and a ring of crooked cops. He starred with Michelle Johnson as the alcoholic Dr. Jack Davis in the film When the Bullet Hits the Bone (1996). Wincott also starred with Lance Henriksen as the murderous district attorney Michael Weinberg, in the film Profile For Murder (1996).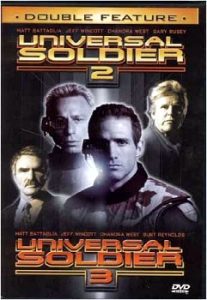 Jeff Wincott was the genetically engineered Eric Devereaux in both the made for TV movies Universal Soldier II (1998) and Universal Soldier III (1999). In Universal Soldier III, Jeff decided he wanted to do his own stunt for his death scene. In the scene, two metal plates (one behind and one in front) are squibbed. When they went off, the plates squeezed his chest and he lost his breath and the impact knocked Wincott unconscious and he fell to the ground. The camera's continued to roll and the director loved the brilliant performance, not realizing Jeff wasn't acting. The director yelled cut and came to his aid. Next Jeff starred with Adrien Brody in the romantic comedy film The Undertaker's Wedding (1997), where he played Rocco, an Italian Mafia hit man who fakes his own death. He guest starred in the Vancouver based crime TV series Cold Squad (1999), giving a chilling performance as the sadistic serial killer, Thomas Brown. Wincott followed up with another role as psychotic killer who takes a family hostage in the film Pressure Point (2001) with Michael Madsen.
Next, Director Clark Johnson featured Jeff as SWAT sniper Ed Taylor in the film S.W.A.T. (2003) with Samuel Jackson and Colin Farrell. Wincott guest starred on the TV series JAG (2003), 24 (2003) with Kiefer Sutherland and NCIS (2005) with Mark Harmon. He played the ruthless drug leader Leo, in the independent film Lake City (2006) with Sissy Spacek and Drea de Matteo. Then he appeared in the film The Invasion (2007), starring Daniel Craig and Nicole Kidman directed by Oliver Hirschbiegel. Wincott had a cameo in the final episode of the TV series The Wire (2007) playing undercover officer Johnny Weaver. Director Tony Scott (Top Gun, True Romance) featured him with Denzel Washington in the film Unstoppable (2009) as Chris Pine's older brother, Jesse. Jeff guest starred with Jim Caviezel as the corrupt Lieutenant Gilmore on the TV show Person of Interest (2011) and Griffin Dunne directed him, in The Good Wife (2012) with Julianna Margulies.
In 2008, Jeff Wincott began playing the recurring role of Jimmy Cacuzza, the leader of the Cacuzza crime family who buys guns from SAMCRO, on the TV series Sons Of Anarchy (2008-2013). He was hired by Rockstar Games as the voice actor and motion capture artist Casey in the video game Grand Theft Auto V (2013). Director Dan Pritzker cast him in the role of real life Chicago mobster Johnny Collins, Louis Armstrong's music manager, in the soon to be released film Bolden! (2015).
Jeff Wincott has a recurring role as Detective Lucas in the new upcoming Scott Ferguson (Emmy for Normal Heart) and Steven Zaillian (Academy Award for Schindler's List) HBO Miniseries Crime starring John Turturro. He is also recurring on Blue Bloods with Tom Selleck. Wincott will also be co-starring in the upcoming 2015 TV miniseries The Lizzie Borden Chronicles as Marshal Hilliard, starring Christina Ricci and Clea DuVall with the world premiere on April 5th at 10:00pm ET/PT.
Jeff Wincott wrote, produced and directed the tragicomedy short film Behind Bars, a semi-autobiographical story, which debuted in 2014. The film, about a big action star who loses everything because of his struggle with addiction, finally gets the phone call he has been waiting to receive for 10 years . . .
Jeff Wincott's Behind Bars