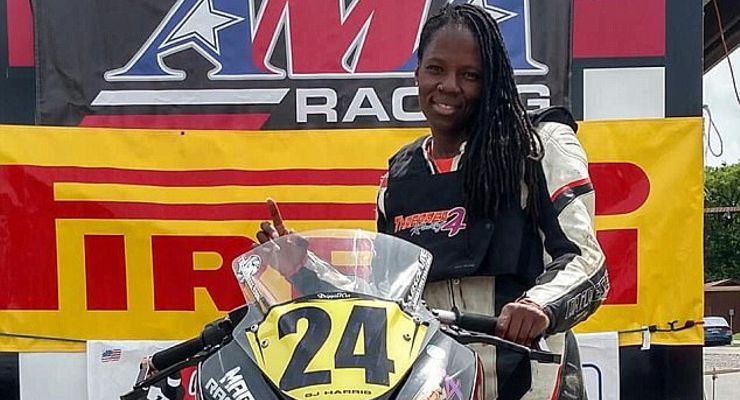 Stunt woman and pioneering professional motorcycle racer, Joi SJ Harris dies on the set of Deadpool 2 as she performs a motorcycle stunt!
Joi was the first African American woman to be licensed as a motorcycle road racer and she had been racing professionally since 2014 and she was well respected for her talents. She was known for promoting road racing to women and to the African American community. Joi learned to ride a motorcycle in 2009, began racing in 2012, got her racing license in 2013 and began racing professionally in 2014. Her performance on Deadpool 2, stunt doubling as "Domino",  for actress Zazie Beetz, was Joi's first stunt performance.
Joi SJ Harris was driving a Ducati 939 Hyperstrada out of the doors of a building, then across a concrete pad, down a ramp that had been built over three stairs and then she was to come to a stop on the stair landing. However, during the intial shooting of the scene Joi didn't stop at the assigned spot, but continue down a second ramp went over the bottom stairs and then across the road.
It appeared that the motorcycle struck the concrete curb of the sidewalk and the stuntwoman was thrown off the motorcycle and through the plate glass window of the Shaw Tower building in front of her.
Actress Zazie Beetz wrote on Instagram: 'On Monday we tragically lost one of our own – Joi SJ Harris. My heart has been breaking the past two days and I have been searching for what to say or do.