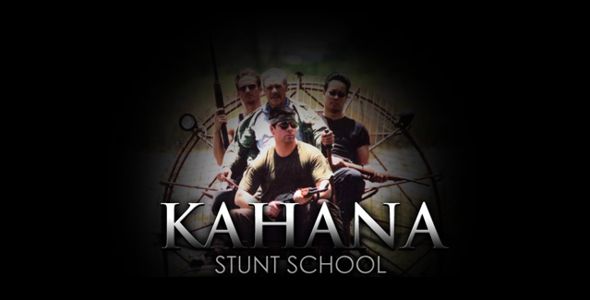 Kahana Stunt School is a division of Stunt Action Coordinator's, Inc. which was founded in 1972 and incorporated in 1974. SAC was opened to the public in 1977 by Mr. Kim Kahana Sr., a former member of the Stuntmen's Association of Motion Pictures, Inc. It was his goal to provide comprehensive education for students wishing to enter into stunt work.
The objective of the stunt school is to prepare its students to become professional, creative and technical crafstmen in the motion picture and television industries.
Like other film schools that charge you anywhere from $50,000 -$100,000 the Kahana Stunt School is different. For the last 40 years, and over 15,000 students, we have been teaching you on the job training. This is the school of life.
How to break into the motion picture and tv industry
How to arrange your composites and resumes
How to do your job and present yourself on auditions
How to set up camera and edit
How to act and set up your own stunts
how to be safe for yourself and for others (the most important lesson you will learn)
Kahana Stunt School Sessions:
Gymnastic/Trampoline: To develop over-all body coordination.
Studio, Bar Room and Karate Fights: To combine timing, acting the part, and body-face reactions without making physical contact.
High Falls: Starting at 10ft: Suicide and header falls from a split level tower up to 50ft.
Rappalling: Australian, Regular, and Zip line.
Car Hits/Near Misses: An illusion that a car hits a person at high speed, throwing them onto the hood. Near misses: To dodge an oncoming car close enough for camera angle purposes.
Directing, editing, and setting up cameras
Weapons: Use of military artillery equipment, rifles & handguns. One day only.
Martial Arts
Traditional training in the field of different martial arts. This instruction is up to Mr. Kahana's discretion.
Lectures
Valuable knowledge on contracts, contacts, etc.
Videotape
Use of video and camera equipment to better educate & evaluate students' abilities.
Resume Arrangement
Composite & Choreographing stunt action pictures and words into one biography presentation.
Kahana Stunt School
Physical Address
Kahana Stunt School
3111 Smith Road (@ DeadEnd)
Groveland, FL 34736
352-429-4561