Chia-Hui Liu (Gordon Liu) was born on August 22, 1951 in Guangdong, China as Jin-Hsi Shin. He is the Godson of kung fu master, Lau Cham.
He loved martial arts and, without his parents knowledge, he would skip school and go train in Hung Gar at Lau Cham's martial arts school. This school had descended from Fei-hung Wong's grand student (father to Kar Leung Lau). Lau Cham's wife also assisted in teaching Liu and a deep friendship developed between the three. Chia-Hui Liu felt great respect for his sifu (teacher) and his teacher's wife and choose to take on the name Lau Ka-fai to show that respect. When old enough, he found a job as a shipping clerk to make ends meet but because of his love of martial arts, Lui was offered a role by Kar-leung Lau.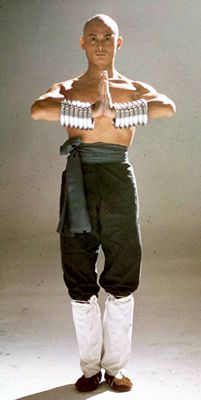 His first real movie break came when Liu began working with a Shaw Brothers subsidiary in Taiwan by the name of Chang's Film Company. He began with small acting parts in films like 5 Shaolin Masters (1974), Shaolin Martial Arts (1974), and 4 Assassins (1975). He starred as the folk hero Wong Fei Hung in Challenge of the Masters (1976), and was featured in Executioners From Shaolin (1977) before starring as Shaolin hero San Te in The 36th Chamber of Shaolin (1978), the film that made him an international star and allowed him to work into the mid 1990's.
One of his fans was Quentin Tarantino who found Liu two roles in his Kill Bill series of film. Liu played both Johnny Mo and Master Pai Mei on Kill Bill: Vol. 1 (2003), Kill Bill: Vol. 2 (2004).
Because of his roles in Kill Bill, Chinese producers once again offered him work and he returned to doing movies while continuing to work in television in Hong Kong.
In 2008, Liu and Indian Bollywood actor and martial artist Akshay Kumar collaborated on the film called Chandni Chowk To China (CC2C). Chia-Hui Liu was given the role of the villain, Hojo, a smuggler who was also a well-trained martial artist.
He appeared as himself in the first Italian martial arts documentary called Dragonland (2009) along with his mentor Lau Kar Leung. The film was about martial cinematic history and was written and directed by Lorenzo De Luca. Liu was able to attend the premiere in Rome as a special guest star and was able to meet his Italian fans for the first time.
In August of 2011, Chia-Hui Liu was performing with his band and had a stroke. He fell and hit his head and was paralyzed on his right side and his speech became impaired. He was forced to use a wheelchair and eventually went into a nursing home. By 2015 his speech had improved but he continued to use a wheelchair.