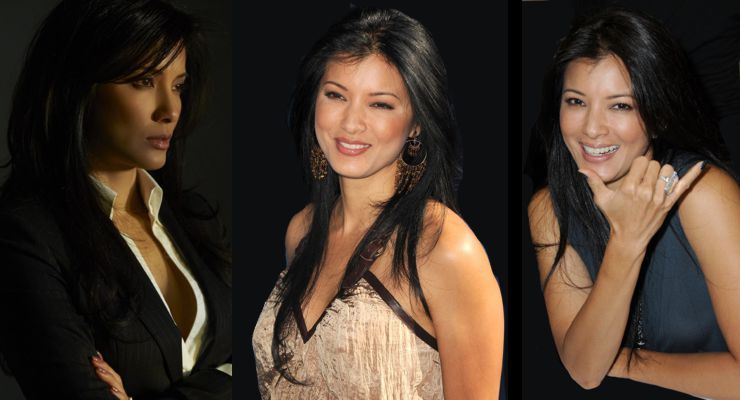 Martial artist, actress, voice over artist and former Miss Teen USA and fashion model, Kelly Hu, was born February 13, 1968 in Honolulu Hawaii. She is of Chinese, English, and Hawaiian ancestry.
Kelly Hu has had a lifetime of firsts. In 1985, at the age of 16, she was the first Asian American to be crowned winner of Miss Teen USA. Soon after she followed her cousin to Japan and then went to Italy, modeling in both countries. She then decided to relocate to L.A., where she entered show business. She got her break in the business with a guest starring role as Mike Seaver's Hawaiian love interest on the sitcom Growing Pains in 1987. 
Kelly Hu then appeared on various television series, including Night Court, Tour of Duty, 21 Jump Street and Melrose Place. She got her first film role in Friday the 13th Part VIII: Jason Takes Manhattan. In 1995, she starred as an undercover police officer in the film No Way Back with Russell. In 1997 she was cast as Dr. Rae Chang on Sunset Beach and worked on the show for six months. She was then cast as police officers Michelle Chan in the television series Nash Bridges, and Pei Pei "Grace" Chen on Martial Law. Her subsequent film appearances include The Scorpion King (2002) with Brendan Fraser and Dwayne 'The Rock' Johnson, Cradle 2 the Grave (2003) with Jet Li and Mark Dacascos, and X2 (2003) as Yuriko Oyama or Lady Deathstrike.
Kelly Hu played the role of Agent Mia Chen on the last three episodes of the television series Threat Matrix in 2004. She also starred in 2005's Underclassman alongside Nick Cannon and in 2006's Americanese, Undoing and Devil's Den. During the first quarter of 2007, she completed filming the film Stilletto, followed by Farmhouse.
In January 2007, Kelly had a full-time role on the television series In Case of Emergency as Kelly Lee which ran 12 episodes. The same year she appeared in films The Air I Breathe and Shanghai Kiss.
Kelly Hu appeared with Scott Adkins in the film The Tournament (2009) as Lai-Lai Zhen. In April 2009, she developed the character JIA for Secret Identities: The Asian American Superhero Anthology. She was the first guest actor to cross over between the television series NCIS: Los Angeles and NCIS, playing Lee Wuan Kai in a two-episode arc within both series. Kelly Hu also guest-starred as a vampire named Pearl on the CW television series The Vampire Diaries (2010 and 2011 ).
In 2010, Hu began a recurring role on the CBS television series Hawaii Five-0. In 2012, Hu was cast in the role of Karai in the animated series Teenage Mutant Ninja Turtles.
Kelly commented: "It wouldn't quite be the first time I played a ninja, I think. Yeah, I don't know why people think I'm dangerous, but for some reason, I keep getting these roles for the ninja, assassin, bodyguard, bad-girl type."
In 2013, she got the role of Abigail Cho, the new owner of the Warehouse that was connected to B&B in the series Warehouse 13.
Kelly is also a voice over artist and provided voice talent for video games including Star Wars: Knights of the Old Republic II The Sith Lords as Visas Marr, the Sith woman who joins the Jedi Exile's party, and Batman: Arkham Origins as Lady Shiva, among the eight assassins hired by Black Mask to kill Batman.
Kelly also lent her face and voice to the in-game character Khai Minh Dao in Battlefield Hardline. Her character can be seen alongside the protagonist in roughly half of the game levels.
Another first, Kelly Hu was the first Asian-American to be featured on the cover of Maxim magazine and that issue was the biggest-selling issue in the magazine's history. She was featured  in Maxim magazine in May 2002 and again in May 2005.
Kelly took her first kung fu lesson from her brother, but it wasn't until 1995, after filming No Way Back,  that she began studying martial arts in Beverly Hills. She earned her Black Belt in Kanzen Budo Kai karate through Master Shirzad Alborzi at the Alborz Karate Academy under the United Karate Federation.