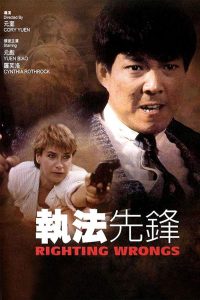 The Hong Kong action comedy crime film, Righting Wrongs (1986), is also known as Above the Law (1986) and was released in the Philippines as Fight to Win II.  It was produced and directed by Corey Yuen who was also a stunt coordinator for the film. Biao Yuen was also producer and stunt coordinator and stars in the film along with Cynthia Rothrock, and Melvin Wong. The film co-stars Roy Chiao, Wu Ma, Siu-Wong Fan, Paul Chang Chung, and James Tien. Also in the film are martial artists Peter Cunningham and Karen Sheperd.
Righting Wrongs is the one of Yuen Biao's better known films that he made without Sammo Hung and Jackie Chan.
Righting Wrongs (1986) was written by Cheuk-Hon Szeto with the screenplay by Barry Wong.
Jason Chan (Biao Yuen) is a lawyer who is angry at the way the law seems to protect criminals. He decides to take the law into his own hands when a key witness, and the witnesses entire family, are murdered. but Cindy Si (Cynthia Rothrock) is soon on put on  case and it all spirals into a situation where only a few will survive.
Righting Wrongs opened in Hong Kong on November 27, 1986.
One of the most interesting facts about Righting Wrongs (1986) is the fact the the movie had 3 different endings. In one ending Biao Yuen died, in another Cynthia Rothrock died, Since audiences very strongly objected to to deaths of either star the final ending was filmed where neither star dies.