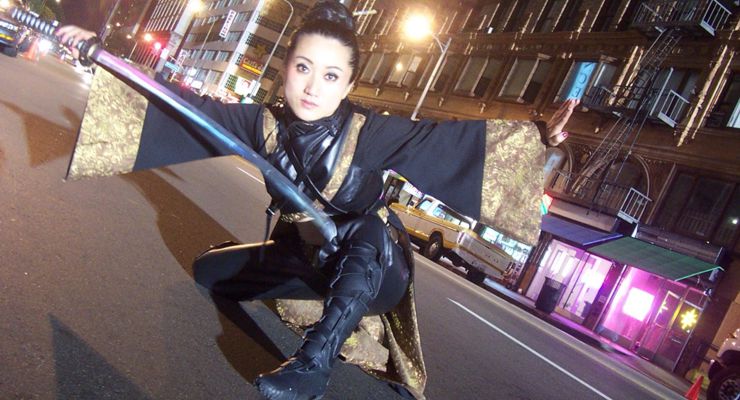 Wushu Expert Li Jing is one of the world's leading female martial arts experts and one of Hollywood's top martial arts stunt actors. She was born and raised in the city of Beijing China and Li Jing began training in the martial arts at the age of five. She trained hard and began to compete competitively, she eventually she began training under the tutelage of renowned martial arts master Wu Bin. Under Wu Bin's guidance, Li Jing became national wushu champion in "Long Fist" after winning numerous honor and she soon became a member of the world famous Beijing Wushu Team. In 1996 she received Chinese wushu association's highest honor received by an athlete for distinguished accomplishments in wushu, becoming a wushu hero medalist. Competing from 1991-1998, she has won multiple national wushu championships and became an over thirty time Junior & Senior China National Champion as part of the Beijing Wushu Team, which is one of the world's greatest and most honored wushu teams.
Li Jing moved to the United States in 1998 and, as a dedicated lifelong martial artist, she became wushu coach at UC Berkley in 1999. She then won coach of the year honors in 2000. As a competitive martial artist in the United States, she became a four time NASKA Women's Grand Champion and International Tai Chi Champion. As a respected martial arts champion, she was able to step into the Hollywood entertainment scene, gaining worldwide exposure in several Hollywood feature films.  Her explosive martial arts skills paved the way to opportunities as a highly respected Hollywood stuntman and fight choreographer. She has worked with such stars as Jackie Chan, Jet Li, Donnie Yen and others.
In 2002 Li Jing was featured in the AMC Channel's Made in Hong Kong documentary exploring the world of martial arts and introducing Li Jing to a global audience.  The documentary followed Li Jing back to China and then took the audience through her journey to America, exploring her life as a martial artist and actress in Los Angeles.  In 2006, she was featured in National Geographic's popular martial arts documentary Fight Science. Since then, Li Jing has worked on and made appearances in several programs as well as numerous Hollywood feature films and television series, including The Fast and the Furious, Twins Effect, Max Havoc – Curse of the Dragon, Entourage, Desperate Houswives and  2007's hit film Rush Hour 3 starring martial arts legend Jack Chan.
Li Jing began filming a new documentary entitled Qiu Jin in 2008. The story was about the life of the legendary Chinese revolutionary and female rights activist, Qiu Jin.  In 2009 she was called on to take part in the Hollywood film Avatar – The Last Air Bender, directed by award winning director M.Night Shyamalan.
Aside from her busy acting and stunt schedule, in 2010 and 2011, Li Jing laid the groundwork for  a world class Wushu training center in Temple City, California. She would call the academy the Wushu Action Star Academy (WASA). and it would serve as a bridge between Hollywood and China's film industry. The academy continues to foster a new generation of outstanding martial artists.  Li Jing took a short hiatus, getting married and  having her first baby, and then in 2012 she got back to work performing key stunts in the US #1 box office smash Pacific Rim.  In 2013 she was back in the spotlight filming scenes for the movie Transformers 4.
Whether Li Jing is on the screen, behind the scenes, or coaching one of her many students, one thing is certain, her accomplishments have inspired countless Asian American women worldwide, and she has paved a way for others to follow. Her greatest achievement however is her continued work to make a difference in the lives of others around her.