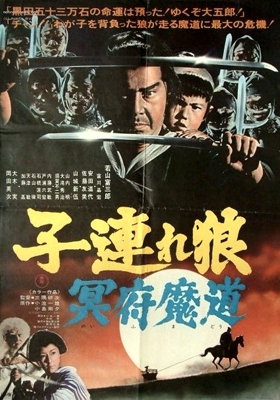 Lone Wolf & Cub (1973-1976) is a popular Japanese television show based on the seminal manga by Kazuo Koike and Goseki Kojima. Lone Wolf & Cub (1973-1976) was a three-season television adaptation produced by Union Eiga and NTV and it ran for 79 one-hour episodes through 1976. It was broadcast in Hawaii, San Francisco, Los Angeles, and territories around the world, as The Fugitive Samurai. The TV series starred superstar Kinnosuke Yorozuya (Shogun's Samurai) as Itto Ogami, and if you keep your eyes peeled you will find well-known character actors and guest stars in each episode.
Previously licensed by Media Blasters, who only issued the first 26-episodes on DVD in the early 2000s, Lone Wolf & Cub (1973-1976) is available via HIDIVE for international streaming in North America, Canada, Mexico, Central and South America, Ireland, Scandinavia, Netherlands, South Africa, Australia, and New Zealand (with corresponding subtitles).
Lone Wolf and Cub chronicles the story of Ogami Ittō, the shōgun's executioner who uses a dōtanuki battle sword. Disgraced by false accusations from the Yagyū clan, he is forced to take the path of the assassin. Along with his three-year-old son, Ogami Daigorō, they seek revenge on the Yagyū clan and are known as "Lone Wolf and Cub".
Characters in Lone Wolf & Cub (1973-1976)
Ogami Ittō — The shogun's executioner, Ittō decides to avenge the death of his wife, Ogami Azami ("Asami" in the Dark Horse version) and to restore his clan.
Ogami Daigorō — (romanized as "Daigoro" in the Dark Horse version)—The son of Ittō and Azami, Daigorō becomes a stronger warrior as the story progresses.
Yagyū Retsudō — The leader of the Shadow Yagyū clan, Retsudō tries everything in his power to ensure that Ittō dies.
Abe Tanomo (also known as Kaii) — The shogun's food taster and a master of poisons; originally ordered to assist Retsudō in disposing of Ittō, Tanomo dishonorably tries to kill Ittō, Daigorō and Retsudō.