Beverly Hills – October 22, 2018 – Enterprise Pictures is pleased to announce the participation of world renowned martial arts expert Stephen Hayes in the studio's historical action-drama TV series Ninja, the epic story of a family of ninja assassin-spies fighting to survive and prosper during feudal Japan's bloody and treacherous civil war.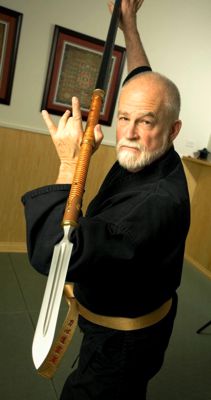 Hayes is an acknowledged authority in the martial arts discipline "ninjutsu", and a tenth-degree black belt (Judan) in Togakure-ryū ninjutsu, the highest level attainable. Hayes spent many years studying and practicing ninjutsu in Japan, the birthplace of all things ninja.
Matt Robillard, president and founder of Enterprise Pictures, said, "I'm thrilled that An-shu Hayes has agreed to come on board Ninja as our historical and technical consultant. His encyclopedic knowledge of the history, weapons, tactics and strategy of ninja operatives and their missions will greatly inform the project."
Hayes stated "For so many years, movie producers churned out ninja movies to entertain the masses. But they knew nothing about the real ninjutsu of Japanese history. Matt is determined to get it right. I am pleased to share my insider's vision of true ninja lore with him and his ambitious production."
Hayes has published several best-selling books on the subject, including Ninja: Spirit of the Shadow Warrior and The Ancient Art of Ninja Warfare. He teaches To-Shin Do, a modern version of ninjutsu, at his Dayton Quest Center martial arts school in Dayton, Ohio.
"Ninja operated inside family clans. Fathers, mothers, sons and daughters spent a lifetime mastering the knowledge, techniques and philosophy of ninjutsu. They struggled, fought and sometimes died together to complete the mission. The stakes couldn't be higher." explained Hayes.

"These ninja seemed incredible at the time because of their advanced practical knowledge of chemistry, meteorology, psychology, stealth tactics and weaponry. The art of ninjutsu is about creating a series of incremental advantages in every tactical encounter with a numerically superior enemy. It's about winning."
The Action-Drama TV Series Ninja will also explore the extraordinary culture and history of Japan during the Sengoku civil war period that lasted 130 years (circa 1467 – 1600). To ensure a high degree of cultural authenticity, Enterprise Pictures will shoot Ninja in Japan, utilizing period locations and Japanese talent, on camera and off. The project is budgeted at $40 million over ten episodes.
"Japan's unique history and culture sparked the development and evolution of ninjutsu over a thousand years," said Robillard. "You can't tell one story without the other. We'll shoot an English version for the international market, and a Japanese language version for Japan. We're confident that Ninja will prove both compelling and addictive to viewers, and a massive commercial success for a premium network partner that we'll be announcing soon."
Enterprise Pictures is a Beverley Hills-based studio launched in 2017 by its President and Founder, Matthew Robillard. The company has already developed a robust slate of television and feature film projects suitable for audiences worldwide.