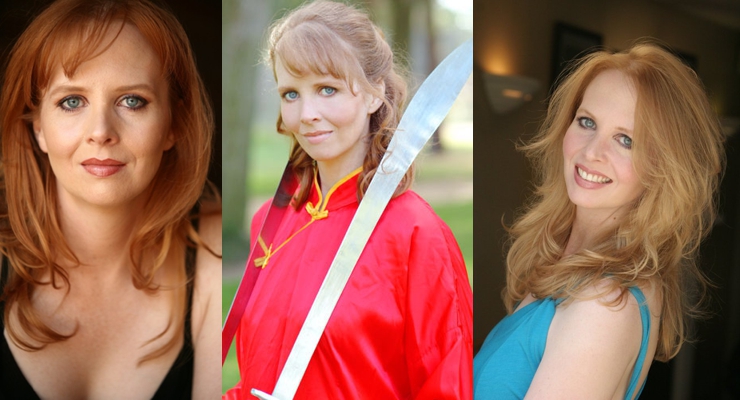 Loren Kinsella is a martial artist and actress known for her work on Runaway Jury (2003), Home of Phobia (2004), A James Hong Film (2013) and G.A.Z.S. (2013).
Starting at an early age, Loren has trained in numerous arts and she has studied martial arts for more than 20 years. Currently she has been training exclusively in Wah Lum Tam Tui Northern Praying Mantis System with Kung Fu Legend, Grandmaster Pui Chan. She trained in eastern and western sword fighting in Burbank and under the supervision of Phil Aslaksen beginning because she believed that it would help her with an audition for Amazon Woman. She performs with other weapons as well including the Gim and Double Gim, Double Swords and Broadswords, the Bo Staff, Spear, Staff, Flute, Fan, Daggers, Double Weapons, Rapier, Foil, Butterfly and  Knives. She also knows how to use automatic weapons, handguns, the long bow and rifles. She does combat fight scene stunt work and
Loren Kinsella says she was influenced by Jet Li, Jackie Chan, Bruce Lee, Cynthia RothRock and Mimi Chan and by actresses Diana Rigg and Judy Dench.
Loren Kinsella began her work in the entertainment industry on stage when she was only two years old. She studied at the New Orleans Center for the Creative Arts and became a company member with Delta Festival Ballet, New Orleans Ballet Association. Loren trained in China at the Wah Lum temple for 10 hours a day for 8 months. She represented the United States in the Zhengzhou International Martial Arts Festival in Zhengzhou, China- #6 and was a member of the Wah Lum International Demo Team.
Loren speaks Cantonese, Chinese, French and Mandarin.