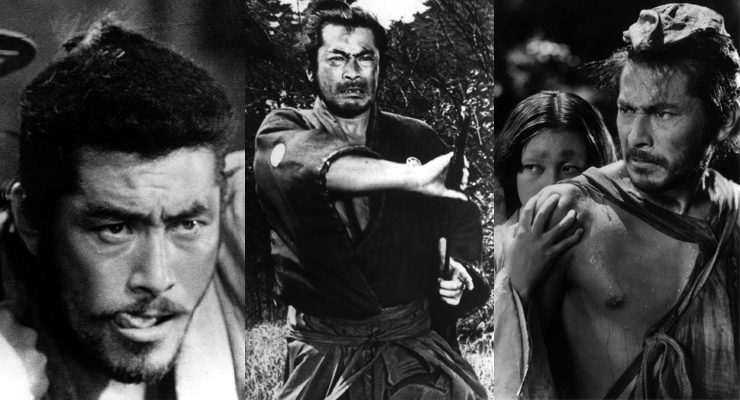 Toshiro Mifune was the most famous Japanese actor of his century who appeared in almost 170 films, 16 of which were collaboration with filmmaker Akira Kurosaw. He was also a producer and director. Although not a martial artists, he portrayed Musashi Miyamoto in Hiroshi Inagaki's Samurai Trilogy, as well as Lord Toranaga in the NBC TV miniseries Shōgun.
Toshiro Mifune was born on April 1, 1920 in Tsingtao, China (Quindao). His parents were Japanese, but he grew up in Dalian, China. He never went to Japan until he was 21 years old.
Toshiro Mifune father was an importer and a commercial photographer, and, after graduating from Dalian Middle School, Toshiro worked in his father's studio for a time. He was automatically drafted into the Japanese army when he turned 20, and he enlisted in the Air Force where he was attached to the Aerial Photography Unit for the duration of World War II.
In 1947 Kajirô Yamamoto recommended Toshiro Mifune to director Senkichi Taniguchi, and he took a screen test which lead to Mifune's first film role in Shin baka jidai: kôhen (1947). Mifune then met and bonded with director Akira Kurosawa, and the two began working together. They became the most prominent actor-director pair in all of Japanese cinema. Beginning with Drunken Angel (1948), Mifune appeared in 16 of Kurosawa's films, most of which have become world-renowned classics. Kurosawa's pictures, especially Rashomon (1950), made Mifune the most famous Japanese actor in the world. Mifune was a dynamic and very intense actor. He excelled in action roles, but also added depth to intricate and subtle dramatic parts. A personal rift between the two men developed during the filming of Red Beard (1965) and it ended the Mifune-Kurosawa collaboration. Mifune continued to perform leading roles in major films both in Japan and in foreign countries and he was twice named Best Actor at the Venice Film Festival [for Yojimbo (1961) and Akahige (1965)]. In 1963 Mifune formed his own production company, directing one film and producing several others. In his later years he garnered new fame in the title role of Lord Yoshi Toranaga in the American TV miniseries, Shogun (1980), and he appeared infrequently in cameo roles after that.
Toshiro Mifune last years were very difficult as he suffered from Alzheimer's and he died of organ failure in on December 24, 1997. He died a few months before Akira Kurosawa, the director with whom he will always be linked.
Japan's cinema industry took pride in him calling him "Mifune of the world". He was their most presentable actor in international cinema.
He is the subject of the featured-length documentary, Mifune: The Last Samurai, about his life and his films. The documentary weaves together film clips, archival stills, and interviews with such luminaries as Steven Spielberg and Martin Scorsese. It is narrated by Keanu Reeves. Mifune: The Last Samurai screened at American Film Festival in 2016 and the film will be released on December 2, 2016.
On Monday, November 14, 2016 the Hollywood Chamber of Commerce honored Toshiro Mifune with a star bearing his name on the Hollywood Walk of Fame. He joined 2,500 others who have been honored for their achievements in the entertainment industry. Japanese actor Sessue Hayakawa (1886-1973) and the fictional monster known as Godzilla, have already been honored with stars.