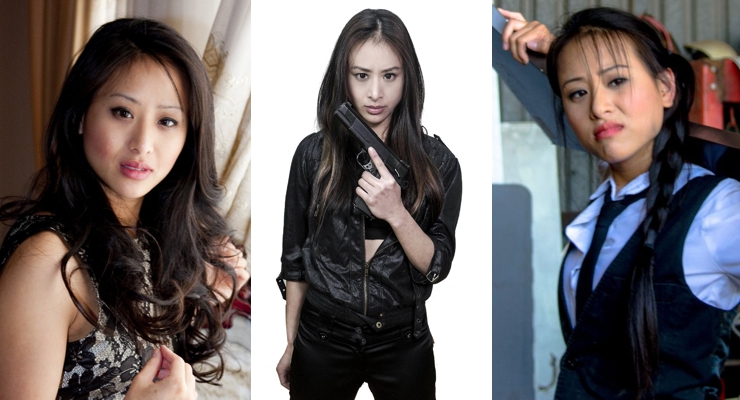 Martial Artist Maria Tran is an Australian-Vietnamese actress, filmmaker and screen acting trainer who has also been a model and presenter.
She was born on January 30, 1985 in Brisbane, Queensland, Australia.
She earned her Black Belt in Hung Vuong Taekwondo and she is a Blue Belt in Hapkido and has had 3 years of training in International Shaolin Wu Chu Chuan Kung Fu. Maria was a World Taekwondo Federation (WTF) sparring champion in 1999.
Maria's works include short films such as Enter The Dojo (2012) , Gaffa, and Hit Girls (2013), as well as Hollywood legend, Roger Corman's upcoming mix martial arts movie Fist of the Dragon (2014) where she plays the killer assassin Zhen opposite co-star, MMA champion Josh Thomson and where she was also the Fight supervisor. Maria Tran also starred as Yoshiko in the Chinese action film Death Mist (2015) starring Bruce Leung (Kung Fu Hustle 2004).
She began her acting career in television in 2008 when she played Aprentice in Downtown Rumble, the Kung Fu action micro-series on JTV-ABC TV. Her comedic role as Kim Cuc for the mockumentary short Hot Bread Shop was official selected for the 2011 Colourfest Film Festival and Gaffa; another action comedy that starred Maria was shortlisted for 2012 Tropfest.
In 2009, she hosted Vietlish TV! and in 2014 hosted Foodielious; an online food adventure series commissioned by Fairfield City Council.
Maria Tran has also won a Breakout Action Actress award at the 2013 Action on Film International Festival for her portrayal of the character Charlie Vu in the female assassin comedy, Hit Girls.
She is also a winner of the 2013 Dreamgirl multicultural beauty and talent pageant, has a bachelor degree in Psychology and is a WTF sparring Taekwondo champion in 1999. Since then, she runs Australia's largest Vietnamese martial arts center; Dong Thanh Alliance Martial Arts. She is proficient Shaolin Kung Fu and Vovinam.
Tran also play supporting character "Mai Le" in Logie award-winning children's ABC TV series "My Place", stunt double for the character "Petal" in ABC's TV series Maximum Choppage — Australia's first Kung Fu comedy and has recently been a part of a new theatre production called "It's War!" directed by Alex Lykos.
Maria will be playing in the Vietnamese action movie Tracer (Truy Sat), directed by Cuong Ngo. The movie is a follow up of Huong Ga – Rise (2014) and again stars Vietnam's leading actress Truong Ngoc Anh (Bride of Silence, Saigon Eclipse, The White Silk Dress and Huong Ga) and Thien Nguyen who  is Vietnamese and a model in Australia.
Maria is a bold, daring, and multi-talented woman and she has imagination and creative style, as well as a great compassion for the world.