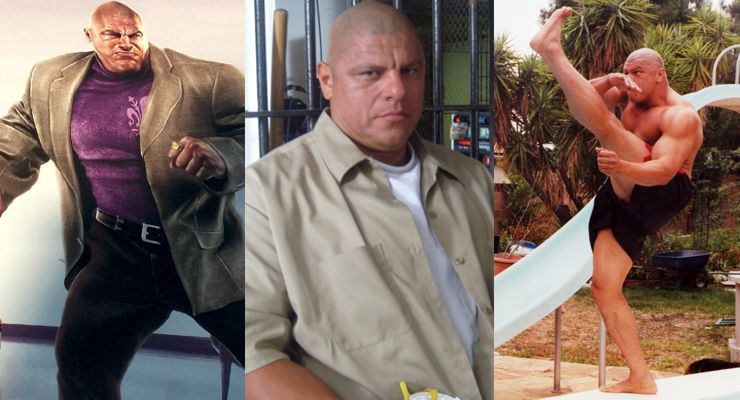 Actor and stuntman, Mariano Mendoza was born in Los Angeles, California on September 17, 1968. He is a Veteran of both the U.S. Navy and the U.S. Army. Mariano 'Big Dawg' Mendoza is considered the Hispanic version of the Debo/Van Damme martial artist and thug. He is the first Hispanic heavyweight cage fighter to fight in the World Vale Tudo Championship in Brazil and Jamaica and was rated in top 100 rated Fighters in the world by Grappler Magazine. Mariano is know as OLEG in the video game Saints Row 3. He was also featured in the MMA Supremacy as Mariano "Big Dawg" the boxer.
Mariano Mendoza has numerous world record titles. He is a former bodybuilder and World Champion Power Lifter, winning Muscle Beach Strong Man 1995 and 1996. He has the world record at 220 lbs with the Strict Curl and is undefeated. He has been a stunt coordinator for a scene on the T.V. show The Mentalist and featured as a coach in the episode called Blood Sport. In 2012 he was featured as Junior, the thug, in the movie School Dance (2014), directed by Nick Cannon. Wilmer Valderrama is Junior's brother in the movie, which features Kevin Hart, George Lopez and Efren Ramirez. He had a reoccurring role on Eastbound and Down as Rodney "Hammer" Garcia in Season 4 and in numerous other TV series including Ray Donovan, Murder in the First, True Detective and Training Day. More Recently he played a fighter in the film, Beyond the Game (2016) and numerous other films.
I have taken a lot of the negativity from my childhood and, with God's help, turned it into a positive.
As a child of eight, Mariano Mendoza found himself in and out of foster homes, boy's homes and Maclaren Hall for nine years. He was blessed to find loving and caring foster parents who were great role models, educating him and teaching him to love and respect others. Mariano Mendoza say's that education was the key to his success, along with positive people who encouraged and motivated him.  Mariano graduated from John Glenn High School in Norwalk, California, enlisted in the U.S. Navy in 1986 and then enlisted in the U.S. Army. He graduated from Cerritos College in 2001 with an AA in Marketing.
Mariano Mendoza specializes in kick boxing, cage fighting, karate, and arm wrestling. He strives to be the best at everything that he does and is am currently focused on an acting career and working as a stuntman.