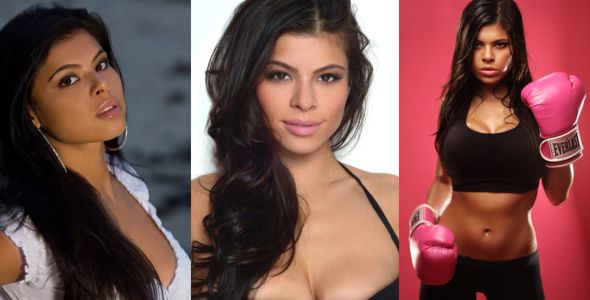 Marissa Jade is impossible to ignore.
The sizzling model/actress attracts eyeballs – and keeps them glued to her – wherever she goes and whatever she does.
Now, the nearly flawless Asian beauty has been cast in "The Martial Arts Kid", the highly-anticipated film co-headlined by martial arts/action-movie legends Cynthia Rothrock and Don "The Dragon" Wilson.
"I met James Wilson (brother of Don Wilson and co-producer of "The Martial Arts Kid") at a convention being held in Atlantic City, The Martial Arts Expo", says Jade. "He took a liking to me and wanted me to be a part of his movie. How could I say no?"
Usually, it is casting directors who have a hard time telling Jade no. She has made a name for herself in everything from "Target" commercials to hit TV series like "Gossip Girl", "The Good Wife" and "Law and Order" to movies such as "Elf" to magazines like "Maxim".
Marissa Jade says she is excited about her role in "The Martial Arts Kid" being a substantial one.
"I will be playing the girl that flirts with and teases the main character for fun and this causes his love interest to be jealous for the first time", says Marissa Jade. "(It) happens in a bike shop on the beach."
Jade says she is happy to sink her teeth into her role in "The Martial Arts Kid" – and show she isn't just a flawless face.
"I consider myself more a model than an actress but would love to get into the acting world more", says Jade.
" I have been in the modeling industry for quite some time working for various companies and designers", Jade says. "I have done several commercials and appearances in movies, talk shows, and television shows. I am also a Global Proving Grounds (GPG) spokes model and Head Warrior Princess (cage girl). I am also the main character in a comic book called "Destiny: Queen of Thieves (published by Scare Tactix Graphix).
Jade makes no apologies for being a model and says it is a career that has given her countless experiences and memories – one of which stands out.
"There are a few that I can remember but I love to dress up on set, Prime example: (While filming an episode of) 'The Good Wife', I wore a hot pink wig and space girl outfit for the scene", says Jade laughing. "Three days on set for the TV show 'Royal Pains' was fun as well. I recently did an art show for 'The Tape Artist' and I was a part of his art display which was also pretty cool."
Believe it or not, Jade says her most memorable experience as an actress so far was filming an ad.
"I recently did a BMW commercial and had the hardest tongue twisting lines to remember", she says laughing. "I remembered them in several hours and nailed it the next morning within 5 minutes. It was pretty impressive."
The television appearances Jade may be most recognized by fans is of the various "Law and Order" series.
"I was on several sets of 'Law & Order' throughout the years, but my most memorable one would have to be when we were working in the office and Eric McCormack (playing the role of Vance Shepard) was our boss", says Jade. "It was fun working with him on set (of 'Law and Order: SVU'). (Of) course, Mariska Hargitay and Christopher Meloni were also on set."
Jade's current steady modeling gig for GPG Warrior Island ultimately led to her being cast for "The Martial Arts Kid".
"I met the owner of GPG at an event in New York City", says Marissa Jade. "We started talking and next thing you know he wanted me to be a part of his company. I felt at home right away and knew I wanted to be a part of his growing organization."
"(While with GPG), I have met several people in the martial arts world", says Marissa Jade. "I was honored to meet Ron Van Clief, "The Black Dragon" and Grand Master Chow, a Kung Fu Master who brought Kung Fu to the East Coast. Also Global Proving Ground has the greatest masters and coaches like world famous Renzo Gracie."
It was also through GPG that Jade met James Wilson and became involved with "The Martial Arts Kid". She says she was drawn not only to her character, but to the entire script, which she says she has read – and the feel of the production.
"Yes, I have (read the script)", Marissa Jade says. "It is a serious coming-of-age story involving a troubled teen that grows & matures after taking martial arts from his aunt & uncle: martial arts legends Cynthia Rothrock & Don Wilson. It is set in Cocoa Beach, Florida. (It has a) great cast & crew with REAL martial artists & great action, too."
Marissa Jade says she is particularly looking forward to working with the "Queen of the Martial Arts Films", Rothrock.
"I have heard many great things about Cynthia", says Jade. "I look forward working with her."
Jade says the martial arts theme of "The Martial Arts Kid" and the fact that so many top-notch martial artists were already cast for it played into her deciding to be a part of the film.
"Being of Asian descent, I am very interested in the world of Martial Arts and I love action movies", says Jade.. "I always wanted to kick ass and show my tough side in a movie!"
"The Martial Arts Kid" hits theaters in the Summer of 2015.