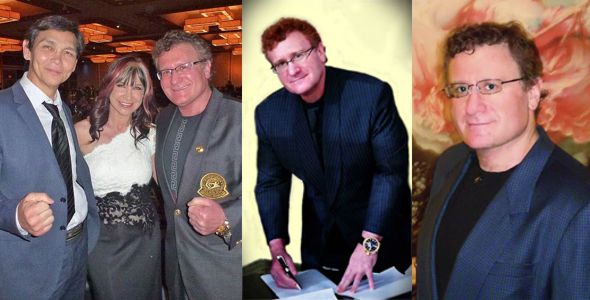 Dr. Robert Goldman has earned many titles through the years. As of Tuesday, April 22, he has another one : Executive Producer of the highly anticipated film, "The Martial Arts Kid". The film is co-headlined by two martial arts legends – and you can't get a more natural or bankable pair for a Kickstarter than these two icons..
Cynthia "Lady Dragon" Rothrock ("China O'Brien") and Don "The Dragon" Wilson ("Bloodfist") are teaming up as the co-headliners the film, which is scheduled to hit theaters in 2015.
Having received a tremendous amount of recognition in recent years for his pioneering anti-aging work and co-founding the American Academy of Anti-Aging Medicine (A4M), and the International Sports Hall of Fame (www.SportsHOF.org), it seems only natural that he is now a major part of a movie in which the two major stars seem ageless.
"'The Martial Arts Kid' is a must-see action movie that should be on everyone's list for 2015", said Dr. Robert Goldman on assuming his new position. "World Champions Don 'The Dragon' Wilson, Cynthia Rothrock – and young star Nassim Faras Lahrizi – will explode on the big screen in this epic in the making."
Rothrock and Wilson, who have starred in over 75 action/martial-arts films combined, will play the aunt and uncle of a troubled teen who moves to a beach town in Florida after the death of his mother. They both teach him martial arts as a way to heal and to protect those he cares about and himself.
The teen has not yet been cast, but other major roles that have include TJ Storm ("Black Cobra") as the opposing instructor to the "Kid" and Matthew Ziff ("Six Gun Savior") as the bully and tormentor of the "Kid".
In addition to his position with and work for A4M, Dr. Robert Goldman's Anti-Aging Academy -founded 22 years ago- claims 26,000 members in 120+ countries and runs a website (www.worldhealth.net), worldwide conventions and medical education programs that award Board Certifications and Fellowship training in Anti-Aging Regenerative Medicine, as well as co-ventured Masters Degree programs at Medical Schools in the USA and overseas.
Dr. Goldman has also spearheaded the development of numerous international medical organizations and corporations and taught at many national and international universities and centers, holding Visiting Professorships around the globe. In addition, he is a Fellow of the American Academy of Sports Physicians and a Board Diplomat in Sports Medicine and Board Certified in Anti-Aging Medicine.
Dr. Robert Goldman is also Chairman of the International Medical Commission, overseeing sports medicine committees in more than 184 nations. Dr. Goldman visits an average of 20 countries annually to promote sports medicine programs.
Even with those lofty and impressive credentials and accomplishments, Dr. Robert Goldman is extremely excited to be Executive Producer on "The Martial Arts Kid, being a former world champion strength athlete with over 20 world records and listings in the Guinness Book of World Records.
"I think this could spawn a new series of 'feel good' martial arts action flicks", says Dr. Goldman."It's an honor to be involved with such a worthy project, with such world class champions and legends."
Other roles already confirmed are Natasha Blasick ("Meet The Spartans", Sasha on "Days of our Lives") and Tara Cardinal ("Legend of the Red Reaper"), Inga Van Ardenn ("Crossing Shadows"), comic Graham Elwood ("Cram"), Jeff Behar, Adrienne Camille ("The Devil's Dozen"), Daniel Moncada ("Sabotage"), Sofya Skya ("Assassins Run") and Vicki Vodar ("Cross Threads") .
Composer/songwriter Martin Blasick, who gained serious Oscar consideration for his work on "Magic Mike" – is a contributing songwriter. Emmy award winning composer Boris Zelkin is doing the soundtrack. Cinematographer Denis Maloney is on board as DP. He shot "The Contender" with Jeff Bridges, Joan Allen & Gary Oldmann, and "No Vacancy" with Timothy Olyphant & Christina Riccci. Michael Baumgarten is the Director and screenwriter . He is an award-winning screenwriter notably for "Smitty" with Peter Fonda, Mira Sorvino & Lou Gossett Jr.
"The Martial Arts Kid" will start filming in June and is scheduled to hit theaters in the Summer of 2015.