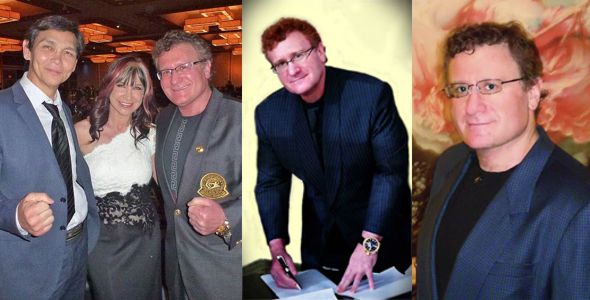 Dr. Robert Goldman has earned many titles and awards through his remarkable life and is a man with impeccable credentials and a sterling reputation. He has rubbed shoulders with Hollywood icons like Sylvester Stallone and Arnold Schwarzenegger. Even more impressive, he has had a seat at the table with people with the power to change the world, like Microsoft founder Bill Gates and former Presidents George H.W. Bush and Bill Clinton.
For this reason, just about everyone who's anyone in Hollywood has sought to get Dr. Goldman involved in their projects and he has always politely declined.
So why was "The Martial Arts Kid" – which is a coming-of-age story co-headlined by martial arts/action-movie legends Cynthia Rothrock and Don "The Dragon" Wilson – the film that Dr. Goldman felt he HAD to get personally involved? He gave his reasons earlier today.
"For many years, I have been approached to support and get involved with movie deals and projects such as this, but this is the first time ever doing so", says Dr. Goldman. "I feel the people involved are so special, talented, pure of heart and good valued dear friends."
"One should feel honored to participate on any level in such a historical and impactful endeavor", Dr. Goldman continued. "It took me only seconds to make a decision to enter at the Executive Producer level. Don and Cynthia, and so many of the other martial arts greats involved, are not only Legends and Icons, but amazing people, who always take the time to encourage others."
Dr. Goldman feels the film will appeal to those interested in supporting anti-bullying efforts and accentuate the value of martial arts to young kids through example and mentoring.
"This film could be a great way to spread the true spirit of the martial arts culture to many new followers; that of mentoring, modesty, being humble despite extreme skill sets and always taking time to teach others their art", he says.
Also, having received a tremendous amount of recognition in recent years for his pioneering anti-aging work and co-founding the American Academy of Anti-Aging Medicine (A4M), and the International Sports Hall of Fame (www.SportsHOF.org), it seems only natural that Dr. Goldman is now a major part of a movie in which the two major stars seem ageless.
"The Martial Arts Kid" starts shooting this June and is scheduled to be released in theaters in the Summer of 2015.