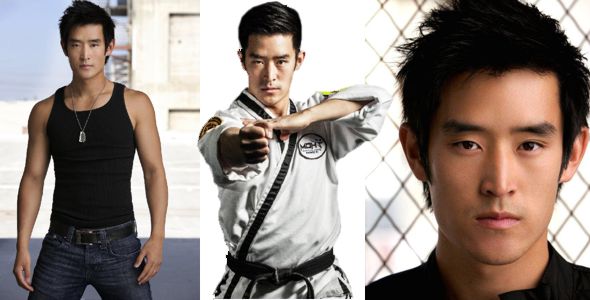 Before entering the entertainment industry, Korean American, Mike Moh, was a part owner of Excel Martial Arts in St. Paul, Minnesota and a world champion taekwondo competitor. He got his first taste of show biz when he met Mike Chaturantabut (Chat), founder of the Xtreme Martial Arts (XMA) movement. With Chat's help, Mike was hand selected by Jackie Chan to appear in "Rob-B-Hood."
Shortly after returning home to Minnesota from working with Jackie Chan in Hong Kong, Mike Moh moved to Hollywood to pursue acting. It wasn't long before Mike landed a role that would showcase both his acting and his great martial arts abilities, Danny Cho in the CW's "Kamen Rider:Dragon Knight". His performance in the series would later help the show earn a daytime Emmy for best stunt coordination.
Mike Moh has appeared in several national commercials, print ad campaigns, television shows, and films.
He has a passion for the martial arts and continues to train and teach in his spare time. He holds a 4th degree Black Belt with the American Taekwondo Association (ATA).
Mike Moh lives in Redondo Beach with his wife Richelle and son Chasen.
Mike Moh Film Credits
2019 Killerman
2019 Once Upon a Time… in Hollywood Bruce Lee
2006 Robin-B-Hood
2009 Cut the Fat Theo Short film
2009 Underground Street Flippers Short film
2009 Greenside Lachlan Sims Short film
2011 Where the Road Meets the Sun Misaki's new love
2013 School Dance Tram
Mike Moh Television Credits
2017 Inhumans
2015-2017 Empire
2016 Street Fighter: Resurrection
2014 Street Fighter: Assassin's Fist
2013 Supah Ninjas
2009-10 Kamen Rider: Dragon Knight Kamen Rider Axe/Danny Cho/Hunt 17 episodes
2011 House M.D. Waiter
2011 Where the Road Meets the Sun Stuntman
2011 2 Broke Girls Korean Hipster #1
2012 The Johnnies Mike 4 episodes
2012-13 Supah Ninjas Flint's Henchman/Ishina Ninja/Raymond/Running Robber 4 episodes
2014 Castle Lee Tong 1 episode
2014 Street Fighter: Assassin's Fist Ryu