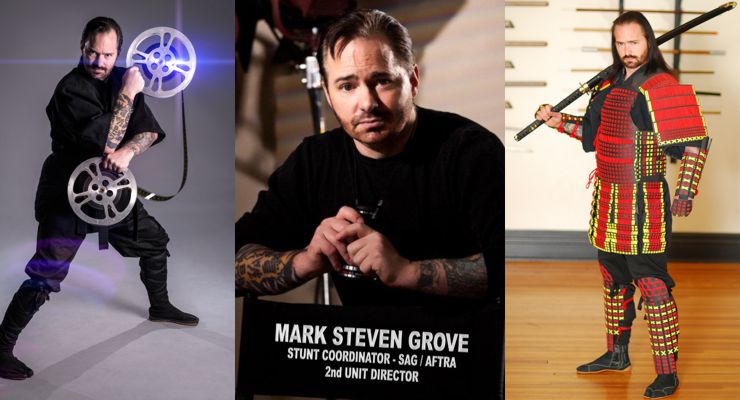 MARTIAL ARTIST
Mark Steven Grove began training in the art of the Ninja in the 1970's and was exposed to Aikijujutsu (combative grappling), Kenjutsu (swordsmanship), and a variety of weapons, including: Shurikenjutsu (throwing blades), Sojutsu (spearmanship), and Torinawajutsu (cords and nets). A prodigy of sorts, he became very proficient at skills very quickly and was highly regarded by his teachers, the most prominent being Shihan Frank Goody, who was his greatest mentor.
AUTHOR
Mr. Grove has written dozens of training manuals for his students called "The Arcanum of Ninja Tactics" and recently he has adapted these manuals to become books available to the public. The first volume, Arcanum of Ninja Tactics: Legacy of the Shadow Warrior, was released October 2016 and more volumes will follow every few months. These will include: Unarmed Self-Protection and The Art of Subterfuge.
FILMMAKER
Mark Steven Grove is also a Denver-based Filmmaker who has worked in the entertainment industry for over 25 years. Aside from being an accomplished Actor and Stunt Performer, it is his skills the camera that have established him as a true Renaissance Man. Gifted in all things action-related, Mr. Grove is a talented Fight Choreographer, Stunt Coordinator, Firearms Handler, Pyrotechnician, and Special Effects Supervisor who has utilized his skills in over 120 professional projects.
Some of his films include, the horror film The Shadow Walkers released by Lionsgate, the martial arts/drama, The Sensei, starring Louis Mandylor (My Big Fat Greek Wedding) and Diana Lee Inosanto. He also wrote and directed the fantasy/adventure Gathering of Heroes: Legend of the Seven Swords, starring Martin Kove (Karate Kid), Christopher Atkins (Blue Lagoon), and Debra Marshall (WWE), and the psychological thriller The Black Hole, starring Malcolm Mcdowell (Star Trek: Generations), Dean Cain (Lois and Clark), Natalie Distler (Rescue Me), Hot Lead Hard Fury, starring legendary martial artist Ron Van Clief (The Black Dragon), and Dear Eleanor, starring Jessica Alba (Fantastic Four, Sin City) and Luke Wilson (The Ridiculous 6, Legally Blonde)
In 2015 he wrote and directed Star Raiders: The Adventures of Saber Raine, starring Casper Van Dien (Starship Troopers, Tarzan), James Lew (Big Trouble in Little China, Marvel's Luke Cage), Cynthia Rothrock (China O'Brien, Martial Law) and Mike Grell (DC and Marvel comics icon).
In 2016 he will be developing the kids/action film Bokendan: Quest for the Phoenix Sword and Shadow of Justice, a martial arts/action film.
Mr. Grove has also created an amazing resource for those interested in getting into the action industry. He has opened the Rocky Mountain Stunts: Action Training Center in Arvada, Colorado. Matted floors, elevated platforms, obstacles, crash mats, and large façade structures that simulate real world environments in which dangerous situations occur. This facility is perfect for training in Classical Martial Arts, Modern Self-Protection, Theatrical Fight Choreography, and Motion Picture Stunts. The facility also has a well-equipped shop to work on Mold-Making, Makeup Effects, Prop Building, and other Practical Effects. If it's related to action, both real and imagined, Rocky Mountain Stunts is the place to learn it.
Learn more about Mark Steven Grove's Rocky Mountain Stunts on the Martial Arts & Action Entertainment Directory by clicking on the image on the left. Rocky Mountain Stunts provides expert stunt coordinators and fight choreographers, stunt performers and set construction, prop creation, prosthetic makeup, and environmental effects.