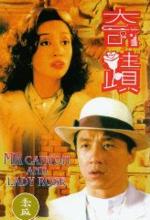 Director: Jackie Chan
Writers: Golden Way Creative Group, Hal Kanter
Stars: Jackie Chan, Anita Mui, Ya-Lei Kuei
In Miracles – Mr. Canton and Lady Rose (1989), Yuen Chor Chan stars as a young man who rescues a dying crime boss in 1930s Hong Kong. When the boss passes away, he is tapped to become the new leader. He attributes his good luck to an old rose seller and the roses he buys off of her. To pay her back for all of his good fortune, he helps her pretend to be a wealthy socialite, just as she had described herself in letters to her daughter in order to help impress her daughter's wealthy fiance and not queer their upcoming marriage. The plot is lifted from Frank Capra's Lady for a Day (1933), which Capra remade in 1961 as Pocketful of Miracles. Of course, like all Jackie Chan films, this movie contains more–and more innovative–fight scenes than Capra could ever dream of.