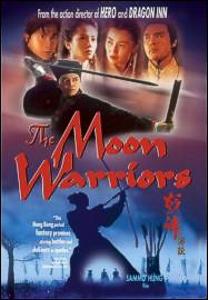 Director: Sammo Hung Kam-Bo
Stars: Andy Lau, Kenny Bee and Anita Mui
Choreography: Tony Ching Siu-Tung
Moon Warriors (1993) takes place in medieval China. Emperor Yen Ling (Kenny Bee) has been deposed by his own brother. Accompanied by the deadly Hsien (Maggie Cheung), the emperor has fled the capital pursued by soldiers seeking to kill him. When the emporer and his companions are attacked by the usurper's men, Fei (Andy Lau), a good-natured fisherman skilled in sword fighting, comes to their aid. Together with his new friend, Fei, the emperor travels to meet his ally, who is also the father of Yeuh (Anita Mui), the woman to whom the emperor is betrothed. Attacked again, the group is forced to disperse, after many ordeals they meet again, only to realize that one among them is a traitor.
Note: Choreographer, Tony Ching Siu-Tung is known for his ability to make non martial artists appear to be very skilled fighters. This movie is a good example of his talents.