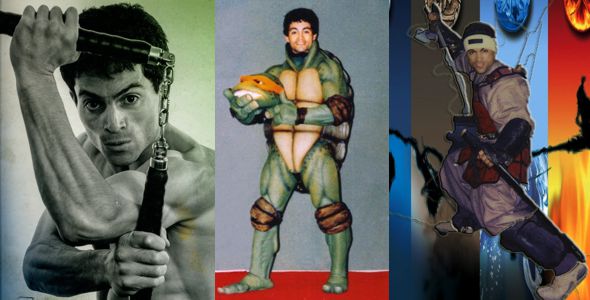 Nick Palma was born in Palo Alto, California. When he was six years old, his mother settled the family in the Sunset district of San Francisco. He had a mostly normal, but precarious, childhood. He played "chase" and "war" games with his schoolmates, had numerous rock fights, and staged "Viking" and "Gladiator" bouts in the backyard with his older brother, Bob, and the neighborhood kids. He was fortunate that some of his mischeif, i.e. hopping fences and skipping up and down rooftops, dodging cars and playing in construction sites, did not lead him down the wrong path. His love for physical fitness was his salvation. At thirteen, Nick, was inspired by Bruce Lee's film, "Enter the Dragon", he immediately took up the martial arts.
Bob and Nick Palma joined a Choy Li Fut kung fu school. Choy Li Fut emphasizes horse stances and low swift kicks in combination with hand techniques. He also pursued western boxing and grappling skills, which he found to be effective against taller stronger bullies at school. Nick wanted to become a versatile fighter who could handle himself in different types of conflicts, and was extremely impressed by Bruce Lee's JKD concepts. Eventually, his thirst resulted in two Golden Glove boxing awards and led to other studies including Wing Chun Kung Fu, Tae Kwon Do, Judo, Wrestling, Gymnastics, Fencing, and Tai Chi (Yang style).
As a young man,Nick Palma earned a Bachelor's degree in Physical Education (Human Movement Studies) from San Francisco State University and an Army officer's Commission (2nd Lt.) from the University of San Francisco ROTC program. While in the Army, Nick earned numerous citations, including two "Iron Mike" awards, and was voted third in his battalion at a leadership camp at Fort Lewis, Washington. As a member of the Second Infantry Division in Korea, Nick won the 119lb. weight division in boxing at the "Indian Head Olympics" and received his 1st degree black belt at the world Tae Kwon Do center (Kuk Ki Won) in Seoul.
After college and the Army, Nick moved to southern California and began a career in the movies and martial arts as well as the Fitness Industry. Nick's claim to fame is performing the martial arts moves, gymnastics and small stunts for the character 'Michaelangelo,' in the Teenage Mutant Ninja Turtle II Movie: Secret of the Ooze.
Acting and Stunts
Nick Palma was introduced to film making by his cousin, Chuck, when Nick was only eight years old.  Chuck filmed some 8 and super 8 mm movies.  Then Nick and his friends continued this craft with their own movies filmed at the Golden Gate Park, and Sutro Ruins in San Francisco. At 18, Nick played 'Sasha' at Riordan High School showing of "Fiddler on the Roof." That same year he auditioned for a movie which was being filmed locally in the Bay Area, through a friend Frank Navarro. The movie was "Weapons of Death," starring Eric Lee (Little King of Kata). Nick ended up working on that movie as a stuntman and became friends with Eric. After earning his degree and after a stint in the US Army, Nick packed up his belongings and headed to Los Angeles to pursue his dreams of acting in movies. It was the friendship with Eric Lee that enabled him to get to L.A. and land the Teenage Mutant Ninja Movie part of Michaelangelo.  Before heading to L.A., Nick took a stunt course through Rocky Capella and the Bay Area Stunt Association.
Filmmaking
Nick has taken the Cinema Production certificate program through Los Angeles City College and completed the program in June of 2012. He also took a four week Film Making class through the New York Film Academy and CCTV 6 in Beijing, China, during the summer of 2012. While in China, Nick took the opportunity to travel the Silk Road. Going as far West in China to the city of Kasgar and making his way East, visiting cities such as Urumqi, Turpan, Duhaung, Luoyang, Deng Feng (Shaolin Temple), Shanghai and Hong Kong.
Martial Arts : Little Dragon II
Nick Palma started his formal martial arts training at the age of thirteen at Doc Fai Wong's Kung Fu school.  The week after the release of Enter the Dragon, trying to capture the versatility of Bruce Lee, Nick took up boxing, gymnastics, wrestling and fencing all at the same time. Of course, this did not go over too well with Sifu Doc Fai Wong, and Nick is sorry to this day for being so difficult. Nick, at the age of 10, and his brother, went through some training of self- defense from their Uncle Jim Castellanos, who had three tours in Vietnam.  Nick followed his brother Bob, first to PAL boxing in the mission district and then to Newman's boxing gym in the tenderloin district of San Francisco.  Trained under the guidance of Johnny Vidal 'Carnation' and Edward Mullins.  At 18 Nick won the 106 lb. Golden Glove Championships by default, and won the 112 lb. Golden Glove Championships in 1980.  Nick joined the US Army and his first duty station was Camp Casey, South Korea.  He won the Indian Head Olympics 119 lb. weight class and caught the eye of Charles Mooney (Silver Medalist 1976 Olympics), and boxing coach at Camp Casey. And winning the Eight Army Boxing Tournament for the 119lb. weight division in Seoul, Korea.  The second half of his tour in Korea, Nick took up the Korean martial art of Tae Kwon Do.  In which he excelled and tested for his black belt at the Kuk Ki Won in Seoul.  Upon being discharged from active duty, Nick went to San Francisco State University and took up wrestling through Lars Jensen, after school he enrolled in another Choy Li Fut school through EY Lee.  Then settled on Wing Chun through Eddie Chong.  When he came down to L.A., he was introduced to Ted Wong through Zee Lo.  Nick took several private lessons with Ted, and started to get involved with the JKD Organizations and seminar's through the Bruce Lee Foundation, Ted Wong's JKD and Jerry Poteet's JKD.