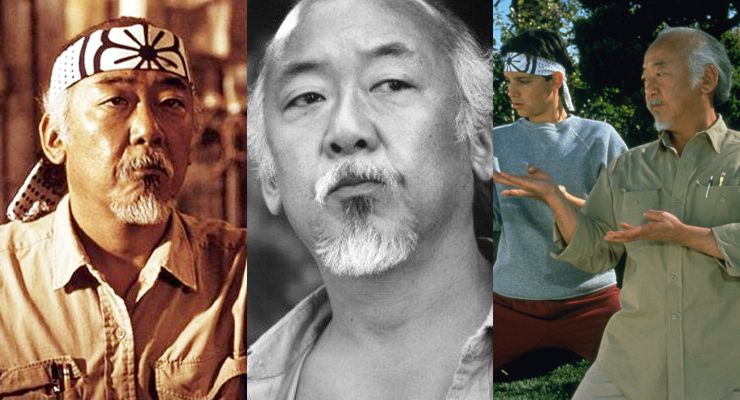 Asian-American actor Pat Morita (born Noriyuki Morita) best known as Mr. Miyagi in The Karate Kid series of movies. He was born on June 28, 1932 and at the age of 2 he began battling spinal tuberculosis which forced him to spend nine years in a body cast fighting for his life while living at a sanitarium. The day he was released from the sanitarium he was escorted by the FBI to join his family at Gila River interment center in Arizona, a fate suffered by many Japanese Americans during World War II. The reunion with his family was difficult. After the war, the Morita family moved to Fairfield, California and Pat helped his father at their Chinese restaurant in Sacramento.
Pat Morita would later land a job with an aerospace firm, but in his early thirties, Morita abandoned his corporate career to pursue a career as a comedian. He struggled in the nightclub circuit for many years as a stand-up comic known as the "Hip Nip". He made his first on-screen appearance in Thoroughly Modern Millie (1967). He quickly adapted to the screen and showed up in small parts in such comedy films as The Shakiest Gun in the West (1968), alongside Don Knotts, and in Evil Roy Slade (1972) supporting John Astin.
In the 1970s, Morita appeared in several TV series including Sanford and Son (1972), M.A.S.H (1972), Welcome Back Kotter, Hawaii Five-O and many others. Later Morita joined the cast of the 1950's sitcom Happy Days (1975-76, 1982-83). He left Happy Days after the first season to star in the short-lived comedy Mr. T and Tina, one of the first television shows to have an Asian American lead character. In 1982, Morita returned to Happy Days for its final season. In 1984, Morita saw his career reach new heights with his role as Mr. Kesuke Miyagi in The Karate Kid which earned him a golden globe and an Oscar nomination. Pat Morita was not a martial artist, but portrayed one in numerous films.
Morita was quite in demand on the small screen and also scored the lead in his own police drama Ohara (1987), and guest-starred on other high-profile television series including Magnum, P.I. (1980), Murder, She Wrote (1984), Baywatch (1989) and The Hughleys (1998). Although most often used as a minor character actor, he remained consistently busy and occasionally lent his vocal talents to animated features such as Mulan (1998). However, Pat's real strengths lay in portraying slightly odd or unusual characters in offbeat films.
Pat Morita died at age 73 of natural causes at Sunrise Hospital in Las Vegas, Nevada on November 24, 2005.