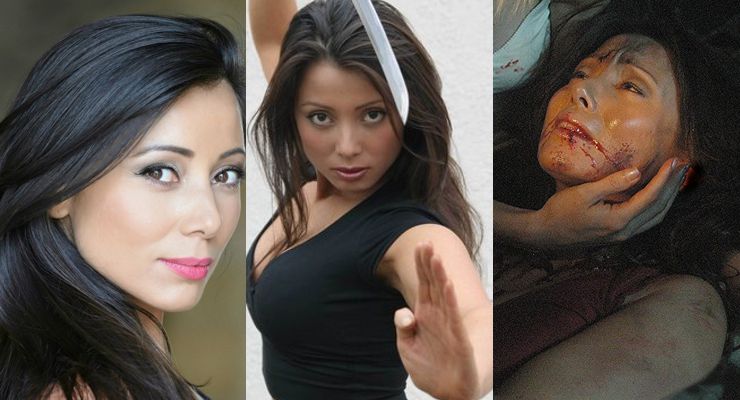 Actress Rachel Grant was born Rachel Louise Grant De Longueuil on the Island of Luzon in the Philippines. Her mother is Filipino and her father is British. Rachel is the middle of three sisters and grew up in the English town of Nottingham where she and her sisters performed on stage for many years. She attended drama school in London and she where she stayed there to pursue her acting career. She later moved to Los Angeles, California and now lives in New York.
Rachel Grant has done some interesting theater work but she got her big break as Nina in the British TV series on SyFy Sci-Fright (1999). Rachel played the female master in BBC's Masters of Combat (2001). Since appearing on the show, Rachel has taken up martial arts and enjoys practicing FMA (Filpino martial arts, known also as kali, ecsrima and arnis). She has studied under Guro Victor Gendrano and Guro Dan Inosanto at the Inosanto Academy in Los Angeles, California.
Rachel Grant is best known for her role as Peaceful in the James Bond film Die Another Day (2002). Proficient in martial arts, she has worked with Jean Claude Van Damme and with Dominic Monaghan in the British martial arts film The Purifiers (2004). She won Best Actress and Best Fight in the Shockfest Film Festival for her role as Princess in Red Princess Blues (2010).
Rachel Grant has traveled to over 70 countries and has led explorations to unknown and daring locations. She was Tour Guide and Host on Bravo TV's Tour Group and has a series of online travel videos, many which have gone viral accumulating over 100 million views in total. Her "How to Pack Over 100 Items into a Carry-on" won her a Shorty Award, was covered on over 200 websites and was featured on The Rachael Ray Show where she guest hosted. She writes for Jetset on Bravo.TV.
Rachel has appeared in several global commercials including: Galaxy Chocolate (UK), Axe Deodorant (worldwide), Carlsberg Lager (UK), Anadin Tablets (UK) Bank of Bangkok (Asia), Gouda Cheese (Germany), Vics Menthols (Germany).
She is related to British royalty through her grandfather, the late Baron Raymond De Longueuil (second cousin to Queen Elizabeth II of England) whose mother was Ernestine Maude Bowes-Lyon. Her father is the current Baron de Longueuil and her older sister Angela with take on the title of Baroness with Rachel and sister Rebecca as Honourable.